Respiratory Rehabilitation
Preparing for a Virtual Appointment
Our Respiratory Rehabilitation Clinic helps people learn to control their breathing, manage their lung disease and exercise safely. The program consists of education and supervised exercise, and is offered three times per week over ten weeks.
After ten weeks, most of our clients are ready to exercise safely in the community.
Our program is intended for people with chronic lung disease who have the potential to improve their health and independence through respiratory rehabilitation. Participants must be non-smokers or in the process of smoking cessation.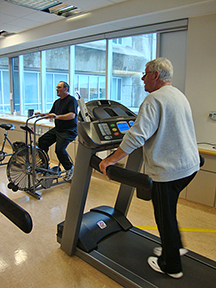 What to bring
On the first day of your program, please wear comfortable clothing and footwear appropriate for exercising.
Please bring any medications you are on related to your lung disease.
Please bring your own portable oxygen with you, if applicable.
Please be prepared to attend the session for approximately 1 1/2 hours
Entrance to the program is by referral from a doctor. If you think you would benefit from our services, please ask your doctor if a referral would be right for you.
Directions
Ambulatory Rehabilitation Centre – Lakeridge Health Whitby
300 Gordon Street, Whitby, ON
Phone: 905-668-6831 ext. 53091
Fax: 905-665-2416
Enter from the Main Entrance (north side) on the Ground Floor, near the cafeteria. Check in at the Reception Desk just inside the Main Entrance. Your therapist will greet you in the waiting room. Parking is available on the east side of Gordon Street. Pay and Display parking is available in Lot B. Patients can be dropped off at the Main Entrance. There are also Accessible Parking spots located near the Main Entrance (north side).
More Information