Leadership Team
Lakeridge Health is governed by a voluntary Board of Trustees made up of community members, medical staff, volunteer, and Foundation representatives.
Our Senior Management Team is focused on implementing the Strategic Plan of Lakeridge Health. The team is responsible for overseeing the administration of the hospital and relentlessly pursuing quality and safety improvements.
Cynthia Davis, BSc, RN, MSc, President and CEO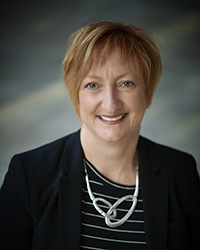 Cynthia Davis joined Lakeridge Health as President and CEO in January, 2021.
Cynthia is a registered nurse by profession, has over three decades of health care experience. Ms. Davis brings a mix of leadership skills and operational experience acquired through her progressive leadership roles in Ontario and Newfoundland. Her career began as a frontline nurse in a variety of settings in Canada and the US. Upon returning to Canada she began work at St. Michael's hospital where she had the opportunity to work as a manager in the surgical and cardiac programs during a time of change for the organization. She joined St. Mary's General Hospital in Kitchener Waterloo and led the development of a new tertiary level Cardiac Program.
Upon return to her home province she joined Western Health, one of four leading integrated health authorities in Newfoundland and Labrador responsible for the delivery of integrated health services to a diverse population across the entire continuum of care. She served eight years as the Vice President of Patient Services and Chief Nursing Officer. Ms. Davis went on to be appointed the President and Chief Executive Officer. Ms. Davis has a passion for patient-centred care which she fosters through engagement and partnerships. Through her PhD studies she is focusing her efforts on advancing the transformation and integration of health services to support vulnerable populations such as care of older adults.
Cynthia is a graduate of Western Regional School of Nursing diploma program. Ms. Davis holds a Bachelor of Science (Nursing) from Dalhousie University, Master of Science from the University of Toronto. She is currently completing her PhD, Interdisciplinary Studies, at the University of New Brunswick. She is a member of many provincial and national healthcare engagement groups and a member of the Canadian College of Health Leaders.
Phone Cynthia: 905-576-8711 ext. 34421
Dr. Tony Stone, Chief of Staff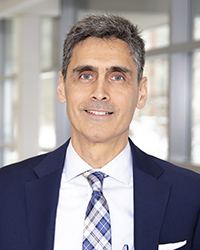 Dr. Tony Stone is a family physician who has delivered care to patients at Lakeridge Health since 1992. His activities have included emergency medicine, inpatient care, palliative care, and low risk obstetrics. His community practice is located in Bowmanville.
Dr. Stone is active in the community and has taken on numerous health care leadership roles, including posts as President of the Durham Medical Society and President of the Medical Staff Association of Lakeridge Health. Prior to the formation of Lakeridge Health, Dr. Stone also served as Chief of Staff at Memorial Hospital Bowmanville.
Throughout the COVID-19 pandemic, Dr. Stone has served as Co-Chair of the Durham Region COVID-19 Steering Committee, the Durham Region COVID-19 Vaccine Planning Executive Table, the COVID-19 Response Partners Group, and is a member of the Durham Ontario Health Team Steering Committee.
Dr. Stone is a graduate of the University of Toronto, completing a Bachelor of Science (honours) in human biology in 1986 and then medical school in 1990. Dr Stone received his certification from the College of Family Physicians of Canada in 1992.
Dr. Stone and his family have resided in Durham Region since 1970.
Phone Tony: 905-576-8711 ext. 33266
Dr. George Buldo, Vice President, Medical and Academic Affairs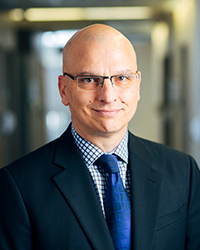 George joined Lakeridge Health in 1997 after completing his training in Internal Medicine and Nephrology at the University of Toronto. He has served as Chief of Nephrology and Chief of Medicine, overseeing growth and specialization in these successful programs, and also served as Chair of the Clinical Services Plan Steering Committee at the CE LHIN. In 2017, George obtained his Master of Science in Health Care Management from Harvard University.
As VPMA George oversees our Medical Directors, working with doctors to improve quality, efficiency, and drive down our wait times and leads our academic and research vision for Lakeridge Health.
Phone George: 905-623-3331 ext. 21357
Natalie Hovey, Vice President, Finance and Chief Privacy Officer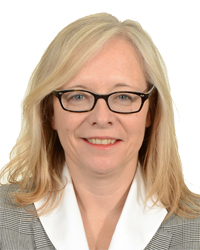 Natalie came to Lakeridge Health in 2009 from Nova Scotia where she held progressive positions at various hospitals, including Capital Health. Natalie has helped drive our accountability agenda and is also focused on the efficiencies and quality improvements new technology can bring to our hospital.
Phone Natalie: 905-576-8711 ext. 34232
Kirsten Burgomaster, PhD, Health System Executive, responsible for Regional and Community Care

In this role, Kirsten has accountability as Ontario Health (Cancer Care Ontario) Regional Vice President of the Central East Regional Cancer Program (CE RCP), and the Durham Regional Cancer Centre. She also has oversight of the Regional Nephrology and Diabetes programs, the Durham Ontario Health Team, as well as the advancement of primary care collaborative models to support our communities. With this portfolio, Kirsten is working to create synergies between acute care and community-based programs to facilitate a supportive continuum of care across the region.
Kirsten is a highly accomplished leader with more than 20 years of experience in the health care environment and academia. Through her work with the CE RCP, she has provided leadership for a network of cancer services and hospitals delivering care to the 1.6 million people who live in Northumberland, Kawartha Lakes, Durham, and Scarborough.
Kirsten is also an Adjunct Professor at Ontario Tech University where she actively participates in research and student theses, and serves as a Board Member of Hospice Peterborough.
Phone Kirsten: 905-576-8711 ext. 36161
Colleen Wilkinson, RN, MS(N), Interim Chief Nursing Executive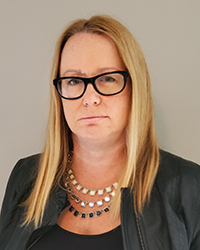 Colleen is a Registered Nurse with 23 years of experience in a variety of direct care, teaching and leadership roles. She obtained her Master's Degree in Nursing in 2003. She joined Lakeridge Health in 2011 and is committed to advancing evidence based practice in Nursing and Allied Health Care.
Phone Colleen: 905-576-8711 ext. 34479