Having a Baby
Service Update Regarding Obstetric Patients at Port Perry Hospital
Lakeridge Health is resuming obstetrical services at Port Perry Hospital's New Life Centre. These services were temporarily transitioned to the Oshawa Hospital on April 14 to accommodate COVID-19 and acute care admissions.
Pregnant patients that were under the care of Family Medicine at the Oshawa Hospital will be transferred back to the Family Medicine team at Port Perry Hospital. The Obstetrics team at Port Perry Hospital is in the process of communicating with patients.
Labour and delivery services continue to be available as per usual at the Ajax Pickering Hospital and Oshawa Hospital. We thank our community and all impacted patients for their patience and cooperation during this time.
Maternal Newborn Program and New Life Centre
We love babies, and we can't wait to help you and your family grow a little bigger. We want to make your experience as comfortable as possible. We offer labour and delivery services at Lakeridge Health's Ajax Pickering, Oshawa and Port Perry sites.
Ajax Pickering
Our maternal newborn services department at Ajax and Pickering provides comprehensive facilities for labour and delivery and postpartum care.
Oshawa
Our spacious, recently renovated rooms provide state-of-the-art health care with hotel-style comfort. Our family-centred model of care means the entire birthing process takes place within your room--from admission to labour and recovery. Each room includes a private bathroom and shower, a flatscreen television and room for your support person to spend the night.
In addition, we have two operating theatres for families having a caesarean (C-section) birth. There is also a large shower room and Jacuzzi bath to support pain management in labour or comfort after birth.
Port Perry
Our newly restored New Life Centre features brighter patient washrooms and walk-in showers. For individual questions about your birth plan, please speak with your physician.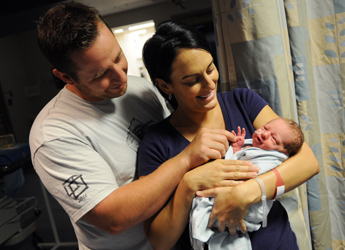 Contact
Oshawa
905-576-8711 ext. 33232
Port Perry
905-576-8711 ext. 45525
Ajax Pickering
For expecting parents: 905-683-2320 ext. 11202
Labour and delivery: 905-683-2320 ext. 11201
Special care nursery: 905-683-2320 ext. 11224
Breastfeeding support group: 905-683-2320 ext. 11597
Directions
Oshawa - 3rd Floor, G wing and F wing
If you're entering through the North entrance, go straight ahead, past the escalators until you reach the end of the hall. Turn right and follow the hallway to the G-Wing elevator. When you reach the 3rd floor, turn left off the elevator and make a right to find the main entrance to our program. To visit someone staying in our F wing, just turn right off the elevator and enter through the doors.
Port Perry - New Life Centre, 1 st Floor
If you're entering through the main entrance, go straight past the gift shop. Turn left and follow the hallway until you reach the doors to the New Life Centre, which will be on your right.
Community resources
While in the hospital, we encourage patients look through their teaching packages and review information regarding community resources prior to discharge. Community resources are also posted in each patient's room.
Durham Health Connection
Free breastfeeding clinic appointment for all residents in the Durham Region.
Phone: 905-666-6241
La Leche League Canada
La Leche League offers free telephone counselling and drop-in group provided by trained volunteer leaders.
Ontario Early Years Center
Free resources and learning programs for Parents and their child from birth to six years.
Toronto Health Connections
Get support by speaking with a public health nurse.
Phone: 416-338-7600
Monday to Friday, 8:30 a.m. to 4:30 p.m.
Toronto Public Health
Further support for breastfeeding in Toronto is also available at several locations.
More Information
For comprehensive birthing information, please visit Healthy Families BC. Please note, British Colombia-specific information may not apply.