Integrated Stroke Unit
When you've had a stroke, the next five to six weeks are key to your recovery. That's when your brain and body will make the most gains from any rehabilitation therapy.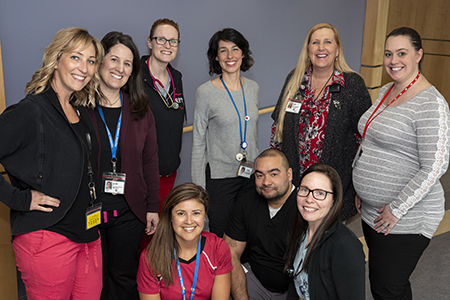 The Integrated Stroke Unit manages the acute care needs of patients who have had a stroke, and as soon as they are ready and appropriate for rehabilitation, move them right into the intensive rehabilitation program.
Our team of doctors, nurses and therapists will work with you and your family to meet your goals so that you can regain as much independence as possible to return home again.
Patients typically stay with us an average of five weeks. Our facilities include a working kitchen, laundry and bathroom to help us assess your ability to perform tasks safely at home and make suggestions about adaptive tools and equipment. We also offer a variety of recreational therapy activities including gardening, woodworking, painting, badminton and computer games.
The Integrated Stroke Unit is located at our Oshawa site.
Directions
From the main lobby, enter the A Wing hallway and turn left into the cancer centre. Continue to the C Wing elevators and take the elevators to the 5th floor. The Integrated Stroke Unit is to the right.
Admission – What Can You Expect
You will be transferred to the first available bed so that you can begin your treatment right away, regardless of the accommodation preferred.
Sometimes this may occur with less than a few hours' notice.
What to Bring
We encourage you to bring items from home that make you more comfortable and are necessary for your participation in the program.
Please ensure all items are labelled. They may include loose comfortable clothes, personal toiletry items, rubber-soled shoes, a sweater, housecoat or sleepwear.
We don't encourage you to bring any valuables.
During Your Stay
You will receive regular visits from a doctor
You will be assessed by a team of nurses, physiotherapists, occupational therapists, registered dietitians, social workers, rehabilitation assistants, pharmacists and recreational therapists.We will work with you to reach your achievable goals. This will include therapy and group programs designed to meet your needs and ready you for release back home.
We've recently launched a new program called Peers Fostering Hope, which gives you the opportunity to meet with a fellow stroke survivor who can provide encouragement and hope.
In-room telephones and televisions are available at a cost. For more information contact the unit clerk.We have complimentary wireless Internet access for patients, families and visitors. Monthly parking passes are available by contacting the parking office.
What We Will Expect of You
To actively participate, to the best of your ability, in your therapy program
Going Home – What You Can Expect
We'll assess you daily to ensure you're ready to go home on the date we've planned, and make any adjustments if necessary.
Community Care Access Centre (CCAC) will also assess you beforehand to determine if you are eligible for any in-home services.
We'll arrange a follow-up appointment and a referral for additional outpatient therapy if needed.
You will be asked an identification question before any treatment or service is provided to you at home. This is to ensure your safety.
More Information