Critical Care
People with life-threatening injuries, illnesses, or who require continuous observation after a surgical procedure may be placed in Critical Care. Our Critical Care Unit provides intensive resuscitation, treatment and monitoring to some of our most seriously ill patients.
Lakeridge Health has state-of-the-art Critical Care Units at our Ajax Pickering, Bowmanville and Oshawa sites.
Our Philosophy of Care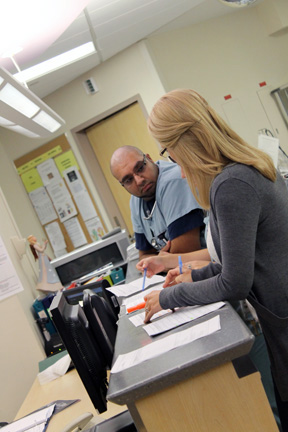 We believe in a holistic approach to care, involving families and patient participation.
Caring for the Critical Patient
Care in the Critical Care Unit is provided by a multidisciplinary Critical Care Team, which is composed of specially trained doctors, nurses, and other professionals. Each professional brings his or her particular expertise to the team, collaborating on a plan of care and treatment for each patient, based upon his or her individual needs and conditions.
Caring for the Family
The Critical Care Team provides support for families of critically ill patients. Our care team is available to you, including counselling and chaplain services. We have a private consultation room for meeting with doctors, clergy and other care team members. And we also have a large, comfortable waiting room equipped with a kitchen and washrooms for families to use.
Critical Care Team
Unit Clerks
These are usually the first people you speak to. They assist you when you wish to visit or communicate with any of the health care team. They also provide clerical duties for the unit.
Critical Care Registered Nurses
Nurses with specialty training in critical care provide direct hands-on care for the patient. The scope of this care ranges from providing for basic needs to managing the highly specialized drugs and equipment that may be necessary to support life.
Registered Respiratory Therapists
Respiratory Therapists are specialists in managing breathing therapies. Care provided by RTs includes breathing treatments and tests, management of artificial airways and artificial ventilation (breathing machines).
Physiotherapists
Maintaining strength and conditioning is an important part of getting better. Physiotherapists are here to help our patients do that. They will assist with exercises and chest care.
Pharmacist
The clinical pharmacist works with the team to ensure that all medications are reviewed and monitored.
Social Worker
Social Workers offer supportive counselling to families at difficult times of uncertainty, grief and loss. They attend family/team meetings, clarify information and can assist with financial, employment, legal or other practical matters.
Registered Dietitians
Patients in the ICU have higher than normal (and different) nutritional needs. Dietitians calculate the individual needs for the patient and monitor their nutritional intake.
Clinical Ethicist
Ethicists are available when there is uncertainty as to what to do next. They can help make sure everyone has the right information to make the best decision possible and honor patient wishes related to treatment options.
Personal Support Representative (PSR)
The PSR has special training to provide cleaning within hospitals (to prevent the spread of infection) and to assist with the transport of patients.
Personal Support Workers (PSW)
The PSW has special training to assist the RN with patient personal care, patient repositioning, and mobility.
Our Commitment to You
We know that being in the Critical Care Unit, or having a relative in the Critical Care Unit, can be a frightening and sometimes overwhelming emotional experience. You want to know what is happening and what to expect. As an important part of our care, we try to make ourselves as accessible to you as possible, listen to your concerns and answer your questions. We consider you a team partner and will communicate with you on your relative's condition, changes and ongoing plans.
Family Satisfaction Survey
Critical Care is part of a Provincial Survey that focuses on Family Satisfaction. As a Family Member/Partner in Care, you will be approached to complete this survey. Participation is confidential and responses help us learn what is important to you as a Family Member/Partner in Care within our department. At any time, feel free to ask one of our Health Care Providers looking after your loved one for more information.
Visitor Information
During this very stressful time, family and significant others are important to the patient's well-being. To keep the hospital a restful environment for our patients, we keep a quiet time from 10pm-7am. If the patient wants you to stay during the quiet time hours, please talk to a member of the health care team about this.
Rest is an important aspect of the healing process. As the patient's condition changes, the best visiting times may change. The patient's nurse will plan with you the best times to visit.
The Critical Care family waiting room is available to provide a comfortable waiting area for families. There are many reasons why you may have to wait in the Family Lounge to visit your family member, including:
The patient is busy receiving care from the nurse;
Procedures or tests are being done at the bedside;
The patient is away at a test;
The patient is resting.
Patient Resources & Information available to you in the family waiting room:
Keeping Your Loved One Safe
Continuous Renal Replacement Therapy fact sheet
Lung Surgery Booklet
Critical Care Equipment
A lot of advanced equipment is used in critical care. This equipment helps us to closely monitor patients and provide specialized treatment. Here is a listing to help you become more familiar with some of this equipment.
Monitor
The bedside cardiac monitor allows the team to view different waveforms depending on the needs of the patient. This can include any combination of the following: heart rate and rhythm, blood pressure, respiratory rate and rhythm, oxygen saturation, and heart pressures.
Intravenous (IV) catheter
An intravenous catheter may be inserted into a blood vessel to allow the team to give fluids and drugs. A peripheral line is a small catheter in the hand or arm. Many critical-care patients require a larger catheter known as a central line, which is inserted into one of the bigger veins in the neck, chest, or groin. These lines are used for fluids or blood pressure support medications. These fluids and medications are controlled by an infusion pump.
Ventilation (breathing) machine
If patients are having trouble with breathing a ventilator may be used for support. This can be done through a tight fitting mask (BiPAP); or more commonly, a tube called an endotracheal (ET) tube is placed through the mouth into the trachea (windpipe) and connected to the breathing machine. In the ICU at Rouge Valley Centenary, if support is needed for a longer period of time the doctor may discuss a tracheostomy where the breathing tube is inserted through the neck into the trachea. This is considered more comfortable for long term use.
Arterial lines
Sometimes a catheter is inserted into an artery (usually in the wrist or groin) and connected to the bedside monitor. This allows the team to monitor the blood pressure at all times and also will allow for frequent taking of blood samples for tests.
Tube feeding or IV nutrition
When patients are very sick, they may not be able to eat or drink enough nutrition to help them heal. Some patients are not able to eat or drink. To provide the needed nutrition, a tube is placed in the stomach through the mouth or nose and the patient can be given tube feeds. If the stomach needs to be rested then parenteral nutrition (PN) may be given directly into the blood stream through an intravenous.
Contact
Ajax Pickering
Phone: 905-683-2320
Oshawa
Phone: 905-576-8711
Oshawa Hospital Critical Care Brochure
Bowmanville
Phone: 905-623-3331
Bowmanville Hospital Critical Care Brochure
Directions
Ajax Pickering
The CrCu is located on the second floor of the west wing of the hospital.
Oshawa
From Hospital Court, enter through revolving doors closest to the Emergency Department. Turn right at the end of the entrance hall and take your first right through a set of doors. To your immediate right is an elevator. Take this elevator to the second floor. Once upstairs, you will have to call the unit from the family room for access.
Bowmanville
From the main entrance, take the elevators to the first floor. Turn left out of the elevator and left again toward the Medical/Surgical Nursing Station. Buzz in to access this secure unit.