Our Stories
Read more about the incredible stories and experiences of individuals in our communities and the Lakeridge Health team members who provide outstanding patient care and make a difference to people they serve.
Lakeridge Health Physician Headed to the Olympics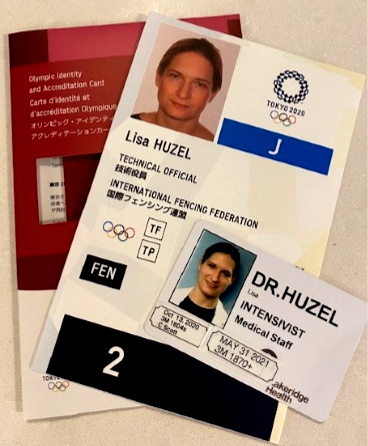 When the summer Olympic games begin in Tokyo this July, Lakeridge Health Respirologist/Intensivist, Dr. Lisa Huzel, will be there to support fencing competitors as one of two medical delegates for the event.
Dr. Huzel began fencing in high school, but took a 20-year hiatus to pursue her post-secondary studies and medical training. In 2002, she opened the Canadian Fencing Academy with her husband Kyle Foster, and began training and competing in 2015. Since 2018, Dr. Huzel has been the top ranked female fencer in the over-40 division and has represented Canada at three World Veteran Fencing Championships, with an 18th place finish in 2018.
Since joining Lakeridge Health in 2007, Dr. Huzel has also become a leader in her field of respirology and critical care and is now Assistant Medical Director in the Department of Medicine. This combined background as a physician leader and competitive fencer led to her being elected to the Medical Commission of the International Fencing Federation in 2016. One of the duties of this post is to work as a medical delegate at the yearly World Fencing Championships, which Dr. Huzel did between 2017 and 2019. She was then selected to be one of the two medical delegates for the 2020 Olympics.
Dr. Huzel admits her fencing skills have been very valuable as a physician and especially during the COVID-19 pandemic. "Caring for patients whose symptoms and situations may change rapidly, I need to adapt, adjust, and think on my feet. These are many of the same skills that I have learned as a fencer to be successful in a match," she explained.
As a medical delegate for the fencing competition, Dr. Huzel will provide this same level of exceptional care and skill to members of the twelve fencing teams competing in the Olympic games, including the one from Canada. "I think that my experience here at Lakeridge Health during the pandemic has prepared me well to be able to assess any situation I encounter quickly and respond appropriately," Dr. Huzel shared.
But most of all, Dr. Huzel feels that "it's an honour to be one of a very select few who will be able to witness the games in person this year."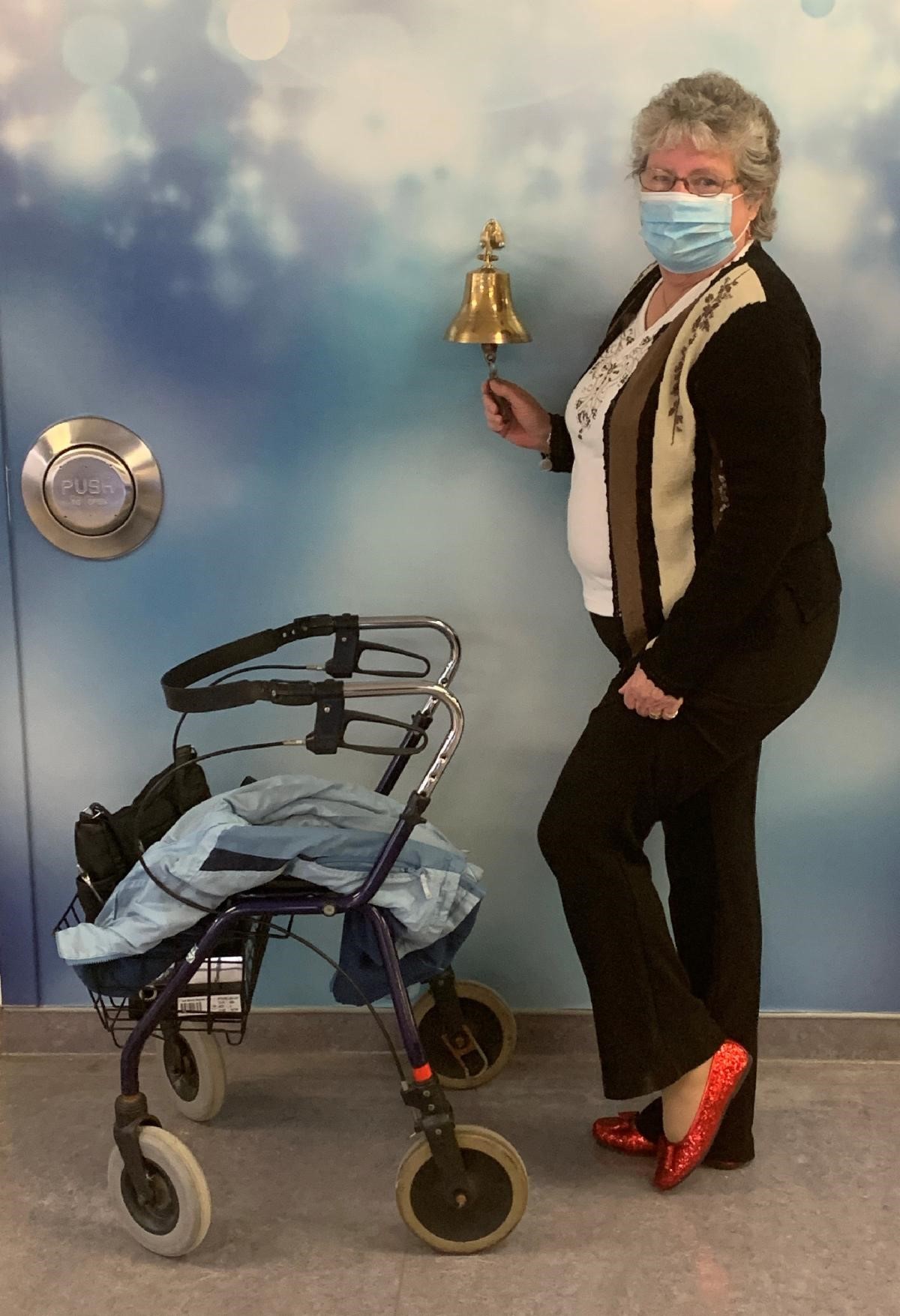 When Linda Parker rang the celebration bell to signal the completion of just over a year of radiation and chemotherapy for breast cancer, the ruby red shoes on her feet were a nod to the special way her care journey had unfolded.
Linda was first diagnosed with cancer in November 2019 after discovering a lump in her breast. Following the surgery to remove the lump, Linda began her treatment journey at the Durham Regional Cancer Centre (DRCC), which included a series of diagnostic tests.
During an introductory consultation with Dr. El-Mallah, Division Head, Radiation Oncology, to review the scan, he explained that her brain had not been impacted by the cancer. Linda jokingly remarked, "Well, at least I have a brain."
Later that afternoon, another test determined that there was no damage to her heart. The name of her technician during that test was Oz. "I began to feel like I was in a DRCC version of the Wizard of Oz movie," Linda explained. "I was told I had a brain, that I have a heart and now I had met Oz. I was definitely facing everything with as much courage as I could."
So, for her last chemotherapy treatment, Linda brought two pairs of ruby red shoes – a pair of pumps she wore during the chemotherapy itself and a pair of flats she proudly sported as she rang the celebration bell.
However, Linda admits that it was much more than just these unlikely coincidences that lifted her spirits during her treatment.
"My husband was not able to be by my side during my chemotherapy due to COVID-19 visitor restrictions, but the team at the DRCC was always there to help me manage every step of the way. They were warm when I needed it and they were entertaining when I needed that too. They helped me in ways that I can't even put into words. They were my cheerleaders."
"Thanks to them, I was able to go home, just like Dorothy," Linda said with a smile.
All her life, Barb Smith was told her Indigenous heritage was something to be hidden away and never spoken of. However, all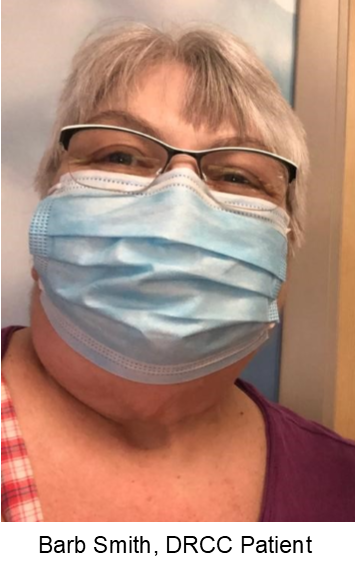 that changed with the help of Lakeridge Health Indigenous Navigator, Kathy MacLeod-Beaver.
Barb was diagnosed with stage three colon cancer in the summer of 2019. During an orientation session at the Durham Regional Cancer Centre (DRCC) before she began her treatment, she and her husband Charles learned of the Indigenous Navigator program.
"I was born in Winnipeg and grew up in the Chalk River area in the Ottawa Valley," Barb shared, who has spent the last 31 years living and raising her family with Charles in Pickering. "I lost my mom to cancer when I was just seven years old and my uncle raised me and two of my five other siblings. All throughout my childhood and into my early adulthood, my Indigenous heritage was viewed as shameful and something that should be denied because of the prejudices that existed."
Charles explained that "Barb was already beginning to try and reclaim her Indigenous heritage before she was diagnosed with cancer and we were both were so happy she would have the additional support of the Indigenous Navigator as she continued to build that connection and navigate her treatment."
"Kathy helped me in ways I could have never imagined," said Barb. "My husband could not be with me during my radiation treatments due to COVID-19 visitor restrictions, but Kathy was there at every appointment to sit with me and share Indigenous teachings and practices."
Throughout her cancer journey, Barb received regular Smudge Ceremonies. Smudge Ceremonies involve burning one of, or all four sacred plant medicines – tobacco, sage, cedar, and sweet grass – to bring peace, clarity, and cleansing.
The significance of Smudge Ceremonies and other Traditional Healing Practices within health care was highlighted in the final report of the Truth and Reconciliation Commission of Canada. Call to Action #22 in the report states: We call upon those who can effect change within the Canadian health-care system to recognize the value of Aboriginal healing practices and use them in the treatment of Aboriginal patients in collaboration with Aboriginal Healers and Elders, where requested by Aboriginal patients.
In response to this Call to Action, in 2019 Lakeridge health implemented a Smudge Policy to ensure all Indigenous Patients had access to Traditional Healing Practices while in hospital.
"Kathy introduced me to the beauty of my culture and for that I will always be grateful," Barb said.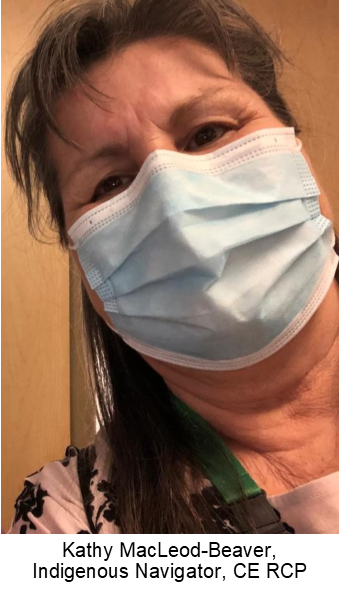 Charles – who is non-Indigenous – admits he has also learned the value of Traditional Healing Practices through his wife's cancer journey and Kathy's teachings. "I have even more respect for the remarkable diversity and contributions of Indigenous peoples in Canada and I feel that now, more than ever, it's important that we celebrate and support the people who originally occupied these lands."
"It was an honour to be part of Barb's journey towards health and healing," said Kathy. "Her kind, gentle, and resilient spirit is an inspiration to me."
Barb also has high praise for her Medical Oncologist Dr. Kirsten Smerdon, her Radiation Oncologist Dr. Fawaad Iqbal, and all the staff and physicians in the DRCC. "Thank you doesn't seem like enough," she said. "Cancer is a nasty thing and the team there offers a truly holistic approach that supports patients every step of the way."
Happily, Barb is now cancer free and the couple – along with their three children – continue their quest to learn more about Barb's family history.
"Thanks to Lakeridge Health and Kathy, for the first time in my life, I feel like I've found peace."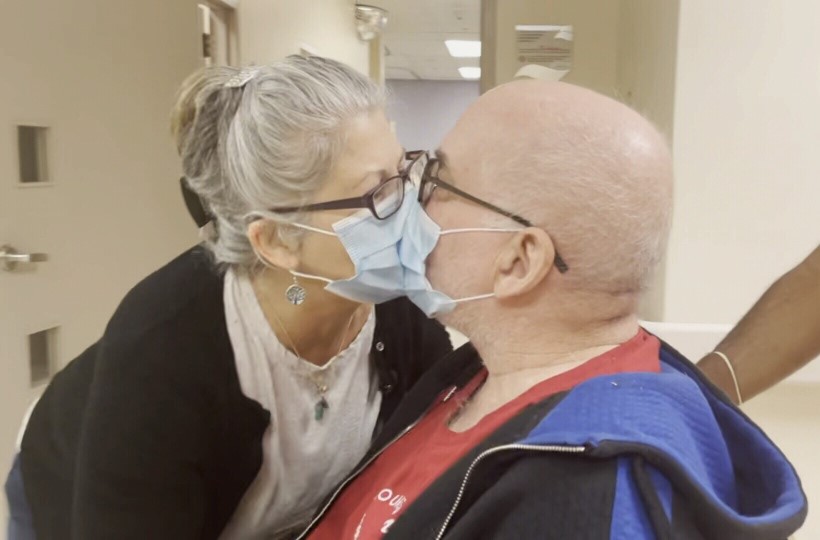 Craig and Mary Wilson have celebrated the anniversary of their first date for the last 48 years. But this year, they marked their 49th with a very emotional homecoming for Craig.
Craig, a retired fire captain from Toronto, spent 120 days in the Ajax Pickering and Oshawa Hospitals for acute care, and then the Whitby Hospital for rehab, after contracting COVID-19 earlier this year.
"It's been an agonizing wait for him to return home and being able to see him again is so surreal. I just can't describe all the feelings," said Mary.
At one point, Mary said Craig's condition became so grave that he was on the cusp of death and she had to say her goodbyes to him.
But instead, on May 7, Craig and Mary had "a paper kiss" – as Craig called it – through his mask as she picked him up from the Whitby Hospital.
At home, Craig was greeted with a drive-by parade of cheering family, friends, and even random well-wishers. Craig's former colleagues from Toronto Fire Services also showed up, and a fire truck from Ajax Fire and Emergency Services was organized by a friend as an added touch.
"I didn't expect any of this. People have come from all over," Craig said. "I just can't express the appreciation over the last four months."
The significance of Craig's return is not lost on anyone, including his son, Trevor Wilson.
"It's unbelievable that my father has been able to return home given the condition he was in. At the end of January, I started to mentally prepare his funeral speech," Trevor shared.
"He's the most incredible man I've ever met, and he just means so much to so many people," he added.
Lisa Smith, an Occupational Therapist at the Whitby Hospital who cared for Craig during his rehab, shared that "Craig's positive attitude and determination, despite the significant toll that COVID-19 took on his body, was inspiring."
Physiotherapist Darlene Bamrah, who was also involved in Craig's care at the Whitby Hospital, noted that "the time and effort he invested into his recovery helped him achieve his goals and return home."
Craig explained that he is "overwhelmed" to be back home with his family, as many other people have not had the same outcome following a battle with COVID-19.
"I feel bad for all the families they don't have this kind of welcome because they didn't make it. It's serious," he said.
While Craig has recovered from COVID-19, he still has a long health journey ahead of him.
"I have to do dialysis three times a week as result of COVID. My kidneys failed and that's one of the reasons I spent so much time in hospital," Craig explained.
He says the aftermath of the disease will impact the rest of his life.
"It's more than just COVID. There's all kind of long-lasting effects for people that have been in this situation, and worse outcomes," Craig said.
Mary also adds that she and Craig "are forever grateful to Lakeridge Health staff and physicians for the dedication and care they provide to patients. At this trying time, they continue to soldier on. We are so proud of them all and thank them for all that they do!"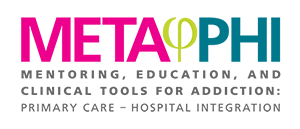 Lakeridge Health clinicians have helped to design an important new toolkit that will assist Emergency Department (ED) teams across the province in treating patients with opioid-related issues.
The new toolkit was produced by Mentoring, Education, and Clinical Tools for Addiction: Primary Care-Hospital Integration (META:PHI) – a provincial initiative led by Women's College Hospital to support health care providers in treating people struggling with substance use disorders.
"Opioid-related deaths have been an ongoing public health crisis in Canada for over a decade and the COVID-19 pandemic has only made this crisis worse," says Lakeridge Health Emergency physician Dr. Larry Nijmeh, who was one of the toolkit leads. "The ED is often at the frontline of the opioid crisis, where clinicians initiate lifesaving interventions for patients."
Dr. Nijmeh explains that one of these treatments includes buprenorphine – a drug used to treat opioid use disorder that has been shown to double the likelihood that patients will follow up with addiction treatment, compared to offering a referral to treatment alone.
The META:PHI ED toolkit provides the resources necessary for physicians in any Ontario ED to initiate buprenorphine when appropriate, along with materials to support ED staff in providing evidence-based care for patients with opioid use disorder.
In addition to Dr. Nijmeh, Lakeridge Health team members who contributed to the toolkit included ED physicians Dr. Nour Khatib and Dr. Calvin Chan, who also served as reviewers, as well as Rapid Access Addiction Medicine (RAAM) Clinic Nurse Practitioner, Helen Manohararaj, who served as an author.
"Lakeridge Health has been a leader in Ontario in introducing strategies to address substance use disorders, particularly during the opioid crisis," explains Paul McGary, Senior Director of the Mental Health and Addictions Program at Lakeridge Health.
"This includes being one of the first in Canada to have a dedicated opioid strategy, providing leadership in the Central East Region opening of RAAM clinics, and introducing a dedicated Opioid Navigator role in the Emergency Department to assist patients with issues such as treatment, housing, and other social service needs."
In addition to the work on the toolkit, Dr. Nijmeh has been a part of the Core Team for the META:PHI ED Changemakers Project – a pilot project to provide opioid use disorder best practices to clinical teams at Kingston Health Sciences Centre, Health Sciences North, Orillia Soldiers' Memorial Hospital, and Quinte Health Care.
"The knowledge and experience of the Lakeridge Health team was incredibly beneficial in the development of this crucial toolkit and we have been honoured to have these skilled practitioners contributing to the work at META:PHI," says Dr. Jennifer Wyman, Medical Educator at META:PHI.
More information on the toolkit is available on the META:PHI website.
"A reminder to have confidence in myself."
How the words of a Canadian icon helped to shape the career of a Lakeridge Health physician
Dr. Julie Ann Francis was just eight years old when her parents took her to tour Queen's Park for the first time.

"Parliament was in session and I remember asking if I could be one of the Pages in the Legislature," Dr. Francis said, a Lakeridge Health Obstetrician/Gynecologist.

"My parents explained that I was too young but could apply when I was older."
Dr. Francis kept her parents to that promise and became a Page as soon as she could at 12 years old. It was a role that would provide a memory she would take with her always.
"My parents were always involved in the community, so I was very aware of our newly appointed Lieutenant Governor, Lincoln Alexander, and I was very excited when the Pages were told that he was coming to meet us. Hearing his story, including how he became Canada's first Black Member of Parliament, first Black federal cabinet minister, and Ontario's first Black Lieutenant Governor, had such an impression on me as young, Black woman," Dr. Francis explained, whose family hails from Barbados.
At the end of his talk, the Lieutenant Governor asked if anyone had any questions.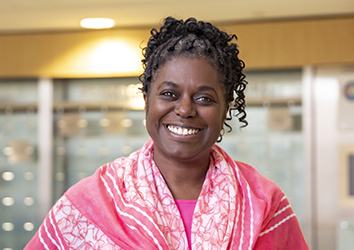 "Although I don't recall what it was, I asked the first question," Dr. Francis shared.

"Lincoln Alexander said that in his experience the person brave enough to ask the first question was bright and fearless. I have carried his words with me as a reminder to have confidence in myself. This is helpful to anyone, but really invaluable if you choose a career in medicine."
Dr. Francis' mindset has clearly served her well. Not only has she built a successful medical practice, but she also helped to open Lakeridge Health's first Gynecologic Oncology Centre in 2018.
The Gynecolgic Oncology Centre combines the surgical expertise of the gynecological oncologists with the existing well established systemic and radiation therapy programs in the Durham Regional Cancer Centre. Women have access to specialized radiation, chemotherapy, and surgical treatment for cancers of the female reproductive system.
Prior to its opening, patients would often have to travel to hospitals in Kingston or Toronto to access surgical expertise as part of their plan of care.
"We have an incredible team here at Lakeridge Health, including many talented Black physicians," Dr. Francis said.

"It's a team that I hope will inspire future generations of health care professionals just as I was."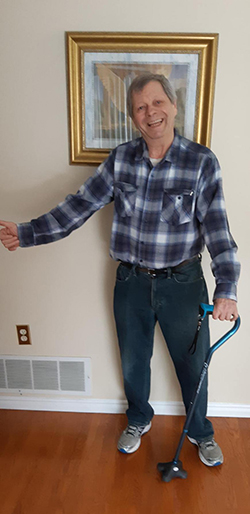 When Gerry Cassidy suffered a stroke last July, he thought life as he knew it was over.
Arriving at the Emergency Department (ED) at the Ajax Pickering Hospital, Gerry – a 66-year-old business owner from Ajax – had slurred speech and was paralyzed on his right side.
"A stroke is a sudden loss of brain function caused by the interruption of the flow of blood to the brain, which causes the brain cells in the affected area to die due to the lack of oxygen and nutrients," explained Amy Maebrae-Waller, Lakeridge Health's District Stroke Coordinator and Patient Care Manager of the Stroke Prevention Clinic and the outpatient neuro program.

"A stroke is a medical emergency and it's important to know the signs of stroke, including one side of the face drooping, weakness in the arms, and difficulty speaking."
Following a brief stay in the ED, Gerry was transferred to the Integrated Stroke Unit at the Oshawa Hospital. The Integrated Stroke Unit manages the acute care needs of patients who have had a stroke and readies them for their rehabilitation program that is also a component of the Unit.
"All the staff were so reassuring and put me at ease right from the start," Gerry shared.
During his time on the Integrated Stroke Unit, "Gerry worked really hard with his therapy team during two to three sessions a day to help him regain his independence in areas such as bathing, dressing, walking, stair climbing, communication, swallowing, and fine motor activities," said Connie Stamp, Patient Care Manager of the Integrated Stroke Unit. "As his strength and abilities returned, he progressed from a wheelchair to walking with assistance, and finally to a walker."
"Working within the multi-disciplinary care team on the Integrated Stroke Unit is extremely rewarding," added Physiotherapist Katie Jenkins.

"We work with individuals like Gerry, to develop and implement a personalized treatment plan, with the goal of maximizing functional recovery, and to eventually transition home. Gerry was very committed to his recovery, and over the course of his rehab stay, he was able to make significant improvements in his ability to walk, as well as to manage his activities of daily living."
After seven weeks of rehabilitation, Gerry was strong enough to go home in September. He continued to receive outpatient therapy through the outpatient neuro program at the Whitby Hospital. As well, he attended the Stroke Prevention Clinic at the Oshawa Hospital, which provides ongoing risk factor management, education, supports, and linkages to other services to help prevent patients from having another stroke in the future.
"When you've had a stroke, it's just so overwhelming," Gerry added. "However, the stroke recovery team at Lakeridge Health gives you care and confidence you need every step of the way. They give you hope!"
For more information about stroke and the signs of a stroke please visit Heart and Stroke website.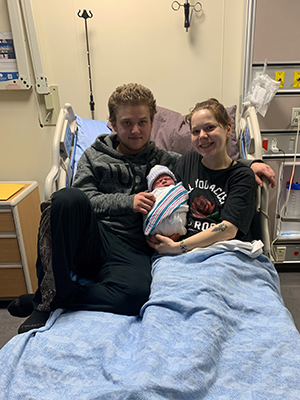 When Oshawa resident Bryanna Kleinsteuber found out she was pregnant with her first child in 2018, selecting Lakeridge Health physician Dr. Paul Pancham as her obstetrician was an easy choice.
"I knew I wanted to deliver at Lakeridge Health as my community hospital, but what made Dr. Pancham a special choice was that his father delivered me," Bryanna explained.
Bryanna's mom, Michelle, had Paul's father, Dr. Sonny Pancham, as her obstetrician. Fast forward a few decades later to 2021 and Bryanna has just celebrated the birth of her second child, Bently, and once again her obstetrician was the son who has followed in his father's career footsteps.
In addition to this special connection, Bently also has the distinction of being a New Year's baby – and the first one born at Lakeridge Health in 2021!
"Everyone at Lakeridge Health has been amazing throughout both my pregnancies and having this history with Dr. Pancham has only added to my experience," Bryanna shared.
For Dr. Paul Pancham, who has delivered more than 5,000 babies in his 20-year career at Lakeridge Health, encountering a mother/daughter link like with Bryanna and Michelle is something he's experienced a few times. However, he admits that it "always brings me a lot of happiness."
"It's an honour to be part of helping a family to grow over generations."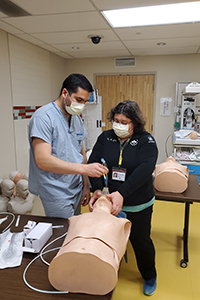 As the COVID-19 pandemic grew last spring, Dr. Nour Khatib and Dr. Katey Jakins could feel the uncertainty growing along with it.
The two Emergency physicians – who are also Education Co-Leads for Lakeridge Health's Emergency Departments (EDs) – quickly identified a significant learning opportunity for their colleagues as they responded to the pandemic.
"The details about COVID-19 were still emerging and everyone was very unsure about how to safely care for our patients and ourselves," said Dr. Jakins.
In order to help address these concerns, the physicians worked with Lakeridge Health Critical Care physician and Medical Director of Academic Affairs Dr. Randy Wax to develop a dedicated COVID-19 education program.
Through a series of posters and simulation events, physicians learned critical elements of safely treating COVID-19 patients, including providing CPR and oxygen, and intubation.
Together with their colleague Dr. Larry Nijmeh, Dr. Khatib and Dr. Jakins have also created the not-for-profit Emergency Medicine Vision for Education in Canada – or EMVEC – to be able to offer education to more interdisciplinary teams, both within Lakeridge Health and beyond. The group has already held virtual rounds and two virtual conferences focusing on a variety of Emergency Medicine topics.
As well, Dr. Khatib has shared these best practices and led COVID-19 simulation exercises with medical staff in during her locums in the Northwest Territories.
"The work of these talented and passionate physicians is an example of how our teams have come together throughout this pandemic to support their colleagues and deliver exceptional care to our patients," said Dr. Tony Stone, Chief of Staff.
As the province navigates the second wave of the pandemic, Dr. Khatib notes how the situation is now, in many ways, the opposite of last spring. "Although there's not as much uncertainty, cases are still rising, and our focus must be on continued vigilance and staying up to date so we can best care for the Durham region community."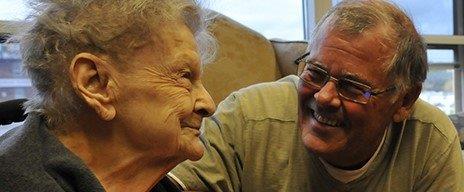 A new pilot project at Lakeridge Health will enable more patients to transition home from hospital safely and with greater confidence. In collaboration with St. Elizabeth Health Care, the Lakeridge Health@Home program provides frail patients at risk of becoming alternate level of care (ALC) with a comprehensive "basket" of services, including nursing, personal support, occupational and physiotherapy, speech therapy and others, specifically tailored around a patient's care needs.
"We're excited to offer this integrated approach to care that will enable eligible patients to go home sooner and provide a more seamless and patient-centred approach to services," said Janis Klein, Director of Medicine and Transitional Management.

"The Lakeridge Health@Home program will partner with patients and their families in a way that safely coordinates community, primary care and hospital services and 'wraps' care around an individual."
Starting next week, Lakeridge Health team members and St. Elizabeth Health Care staff will begin to identify 30 eligible patients in the Medicine, Post-Acute Specialty Services (PASS) and Surgery programs across the system. Once enrolled into the Lakeridge Health@Home program, they will receive supports for up to 16-weeks post discharge.
"Learning from other hospitals that have implemented this integrated approach, we know the Lakeridge Health @Home program will help to provide care options in a coordinated and timely manner and decrease future visits to the Emergency Department," said Janis.

"What's more, Lakeridge Health @Home aligns with our strategic directions to improve population health, create an integrated system of care and our commitment to individual health care."