Inclusion, Diversity, Equity, Accessibility, and Anti-Racism
Inclusion, Diversity, Equity, Accessibility, and Anti-Racism Multi-Year Action Plan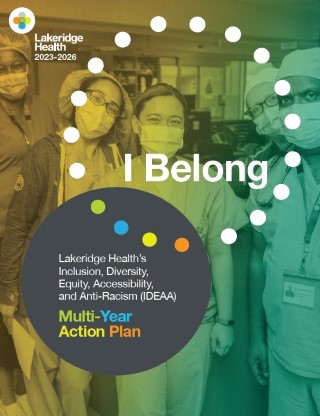 As an organization that serves the diverse communities of Durham Region with more than 8,700 staff, physicians, and volunteers, we have a social responsibility to foster a culture where everyone feels they can work and receive care safely, openly, and honestly.
In the summer of 2020, we made a commitment to accelerate our inclusion, diversity, equity, accessibility, and anti-racism (IDEAA) efforts in order to promote an equitable environment for all.
Since then, we've made great strides in this work – putting initiatives in place to address system inequities identified by our teams and surveying our communities to help inform our Board of Trustees.
This IDEAA Multi-Year Action Plan builds on our comprehensive engagement and formalizes our commitment to IDEAA across the organization.
Over the next three years, we will set the foundation to embed an IDEAA lens in everything we do. From the moment we begin caring for a patient, resident, or client, or the first day someone joins our team, we want each person to be able to say, "I belong at Lakeridge Health."
Quick Links to Resources