Emergency Department
Lakeridge Health Emergency Departments provide 24-hour access to care for people experiencing trauma or sudden illness. We have Emergency Departments in Ajax Pickering, Bowmanville, Oshawa, and Port Perry.
When you arrive in the Emergency Department, you will visit the Triage Nurse, who will assess your problem. Please be prepared with your health card, a list of medications and allergies, and emergency contact information.
Where do I go if I need health care but it's not an 'emergency'?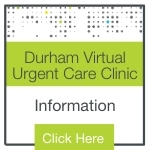 If you need emergency care, please go to your nearest Emergency Department immediately. If you do not need emergency care, you've got other health care options close by.
You can also call Telehealth Ontario at 1-866-797-0000 to speak to a Registered Nurse.
When should I visit the Emergency Department?
Go to your nearest Emergency Department if you or a family member experiences any of the following:
Difficulty breathing or shortness of breath when doing very little or resting
Continuous vomiting or severe diarrhea with signs of dehydration such as dry tongue, dry mouth, decreased peeing (no urine for the past 6-8 hours), or very yellow/orange, dark urine
Stiff neck and sensitivity to light
Seizures or convulsions
Confusion or disorientation
Chest pain or tightness in the chest
A broken bone or a wound that may need stitches
Sudden, severe headaches, vision problems, sudden weakness, numbness and/or tingling sensations, trouble speaking, dizziness
Your infant, under three months of age, has a fever over 38.5C or 101F
Your child has a fever and it is difficult to wake her/him
Patient care instructions for after you have been discharged from the emergency department
Directions
Ajax Pickering
580 Harwood Avenue South
Ajax, ON L1S 2J4
Bowmanville
47 Liberty St. S.
Bowmanville, ON L1C 2N4
Oshawa
1 Hospital Court
Oshawa, ON L1G 2B9
Port Perry
451 Paxton St.
Port Perry, ON L1L 1L9
More Information