EMG (Electromyography) Clinic
An EMG (abbreviation for electromyography) is a medical device that can diagnose problems in the muscles or nerves.
The EMG clinic can perform the following two tests:
Nerve Conduction Study
Electrodes are attached to the skin near a specific muscle or nerve and an electrical stimulus is applied.
Needle EMG
In this test, a needle resembling an acupuncture pin is inserted into the muscle tissue. The needle acts as an antenna for recording electrical activity.
You may require both tests, or just one. Your test results will be captured in a report and interpreted by a physiatrist.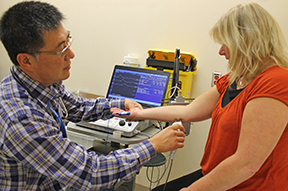 Contact
Ajax Pickering Hospital
580 Harwood Avenue South
Phone: 905-683-2320, ext. 11168
Fax: 905-428-5307
A doctor's referral is required. Please speak with your doctor to find out if a referral would be right for you. To be referred, you must be able to tolerate prolonged sitting (up to 1.5 hours).
More Information
The EMG Clinic is located in the Cardiac Diagnostic Clinic on the first floor of the East Wing, next to the pharmacy.