Stroke Prevention Clinic
Stroke Prevention
A stroke is a sudden loss of brain function caused by the interruption of the flow of blood to the brain. The lack of blood flow causes the brain cells in the affected area to die.
We help people who have had a stroke, or are at high risk for a stroke, by connecting them quickly with the testing and services they need to prevent them from having a stroke in the future.
We see patients from all over Durham Region who have been referred through their family doctor or from a doctor in an Emergency Room. Designated a District Stroke Center in 2008, our clinic provides testing, patient and family education, group lifestyle counselling, risk factor management and referrals to other services.
Before You Visit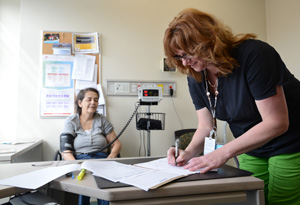 Please complete all required testing.
Have your regular meal and take all your regular medications before your appointment.
Please bring all your medications in their containers from the pharmacy with you.
Bring a list of past surgeries, illnesses or accidents including the years they occurred.
Please bring a spouse, family member or friend if possible and if necessary prepare a list of question you want to ask during the visit ahead of time.
During Your Visit
You will meet with a specially trained nurse and doctor.
We will discuss your risk factors, review your test results and discuss personal management options.
After Your Visit
You will be provided with a summary of your risk factors and our recommendations for managing them as well prevention activities.
We recommend you see your family doctor within the week to begin an action plan based on our advice.
We may ask you to have further testing and we may want to see you again to review your progress.
We hope you'll take an active role by making any lifestyle changes that are necessary to manage your risk factors for stroke.
If you have any signs or symptoms of stroke, please seek Emergency assistance by calling 911 right away.
Information for Patients on Virtual Care Visits
Resources for Patients
Contact
Stroke Prevention Clinic
Lakeridge Health Oshawa
1 Hospital Court, Oshawa, ON

Phone: 905-576-8711, ext. 33792
Directions
The Stroke Prevention Clinic is located at our Oshawa site.
From Parkwood Court
Enter through the sliding doors at the top of the old ED ramp and the Stroke Prevention Clinic is just inside. Check in with the reception desk.
From Hospital Court
Enter through the main lobby and continue past the elevators and head straight to the A Wing hallway. Turn right towards the G-Wing and turn left just past the Auxiliary Coffee Kiosk. Check in with the reception desk.