Kidney Care Clinic
We work closely with people who have kidney disease who are not yet on dialysis, helping them to manage their health with the goal of keeping them off of dialysis as long as possible.
Each person is different. Some may be able to manage for a long time by making changes to their diet and taking medication. Others may have to start on some form of dialysis right away.
Our health care team will work closely with you to design a care plan that is just right for you.

The Kidney Care Clinic is located at our Whitby site.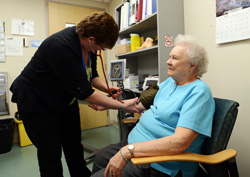 Contact
Kidney Care Clinic
Lakeridge Health Whitby
300 Gordon Street
Whitby, Ontario
905-576-8711, ext. 6950
More Information
Your Kidneys and You (pdf of material on KCC current page)
Living with Kidney Disease (Kidney Foundation Manual)
Vascular Access - Your Options