Our Amenities
COVID-19 Related Service Changes
Please Note: Due to the pandemic, we have limited amenities at each of our sites. Please refer to our COVID-19 Updates page. Thank you.
Places to Eat
We offer an assortment of food choices at our food courts and cafes.
Hairdresser
If you are at Lakeridge Health Whitby, Port Perry or Bowmanville, please speak with a member of your care team to arrange an appointment with the hairdresser.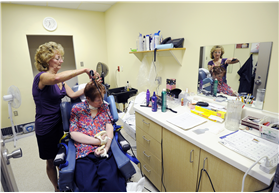 At Lakeridge Health Ajax Pickering, you can make an appointment by leaving a message at 416-360-5001 (or toll free at 1-900-863-2887).
Lost & Found
If you have lost an item, please call 905-576-8711 ext. 34069 to see if it has been turned in. You may also want to contact the specific unit where you left your item.
Mail a Letter
If you're staying at one of our hospitals, simply give your mail to a member of your care team (ensure the correct postage is attached).There is also a Canada Post mailbox at Lakeridge Health Oshawa and Bowmanville.
Payphone Locations
Payphone Locations

| Hospital Site | Payphone Location |
| --- | --- |
| Lakeridge Health Ajax | On every floor, in the emergency department and at both the east and west entrances |
| Lakeridge Health Bowmanville | At the main entrance and in the ER |
| Lakeridge Health Oshawa | In the main lobby, the ER and the Cancer Centre |
| Lakeridge Health Port Perry | At the front entrance and in the ER |
| Lakeridge Health Whitby | At the north entrance (near the Gift Shop) and on the 2nd floor near the hemodialysis waiting room. |
Entertainment and TV Rental Services
Entertainment and TV rental services are available right at the bedside, provided by HealthHub Patient Engagement Solutions.
Connect My Bed is available 24/7 to also help answer questions related to local channel guides and request customer service assistance.
Receiving Mail
We will deliver your mail to your room. Your friends and family should address your mail to:
Your Name
Unit and Room Number
c/o Lakeridge Health
Insert site-specific address (see below)
Ajax-Pickering
580 Harwood Avenue South,
Ajax, ON L1S 2J4
Bowmanville
47 Liberty Street South,
Bowmanville, ON L1C 2N4
Oshawa
1 Hospital Court,
Oshawa, ON L1C 2N4
Port Perry
451 Paxton Street,
Port Perry, ON L9L 1L9
Whitby
300 Gordon Street,
Whitby, ON L1N 2T5
Taxi Service
The main entrance of each of our hospitals has a telephone with direct access to taxi service.
Wireless Internet
Our four hospital sites have free wireless internet service for patients and visitors. Simply select the network "LHGUEST" from your laptop, smartphone, iPad or other WiFi-enabled device. (Once you connect, you will be prompted to accept our wireless guest agreement.)