Health and Safety
Infection Control
The best way to prevent the spread of infection is to wash your hands or use the alcohol-based hand rub that is available throughout the hospital. Please remind your visitors to clean their hands when they enter and leave your room.
Keeping the surfaces in your room clear is also important because it lets our staff thoroughly clean and disinfect your room.
We're Latex and Scent-Free
All of our hospital sites are latex and scent-free. Latex and scents can cause allergic reactions for many people.
Please bring non-scented flowers and personal-care products only, and choose mylar balloons instead of latex balloons (you can find these and other hospital-friendly gifts at our volunteer-run gift shops).
What to do in an Emergency
If there is an emergency at one of our hospital sites, we will make an overhead announcement. Please stay calm and follow the instructions of our staff.
Fire Safety
If there is a fire at one of our hospital sites, you will hear an overhead announcement for "code red". Please stay calm and follow the instructions of our staff. Do not use the elevators or try to leave on your own, as fire doors will be closed.
All of our staff receive mandatory fire-safety training and participate in fire drills regularly.
We're a Smoke-Free Environment
In compliance with the Smoke-Free Ontario Act and Electronic Cigarettes Act and Regulations, Lakeridge Health prohibits the use of any form of smoking or the use/vaping of electronic cigarettes (e-cigarettes) on any of its properties.
Emergency Codes at the Hospital
At Lakeridge Health, Emergency Codes are in place for the safety of our patients, visitors, and staff members in the event of an emergency or situation that requires immediate action.
Lakeridge Health uses standardized colour codes as supported by the Ontario Hospital Association.
Get to know the codes in case of emergency.
Code Red - Fire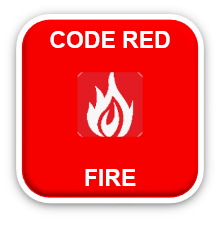 Code Red is intended to provide immediate notification and establish response procedures to a situation where smoke or fire is present at Lakeridge Health.
In the event you observe smoke or fire, it is important to R.E.A.C.T. Remembering these five (5) key steps can help save lives and reduce the spread of the fire.
Remove people from immediate danger.

Enclose all doors and windows to prevent the spread of fire/smoke.

Activate the nearest fire alarm pull station.

Call 611 (or 5555 at the Ajax Pickering Hospital), identify yourself, and provide the operator with information regarding specific location and type of fire.

Try to fight the fire with the appropriate extinguisher, if it can be done safely. Keep yourself between the fire and the nearest exit door. If the fire cannot be extinguished, close the door to confine and contain the fire, and leave the area.
Code Yellow - Missing Person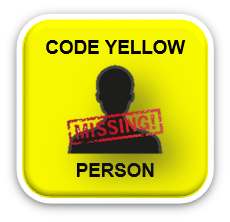 Code Yellow will be activated by the Patient Care Unit upon discovering a patient is missing to alert all hospital staff to initiate a search.
This policy can be applied to both inpatients and outpatients who meet the criteria for missing patient. In some cases, a Code Yellow can also be activated for a missing visitor.
A Code Yellow does not apply to a patient who is capable and clearly indicates his/her intention to leave the hospital against medical advice.
Code Amber - Missing Child/Infant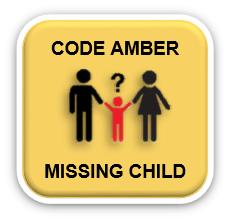 Code Amber is used to minimize the risk of a successful abduction of infants and children from a Lakeridge Health facility, and to identify procedures to be followed in the event a child is missing or abducted.
All Lakeridge Health, colleagues will follow Infant/Child Abduction prevention measures used by the Maternal/Child program. Should an abduction occur, Code Amber should be initiated to alert others in the facility.
Code White - Violent Person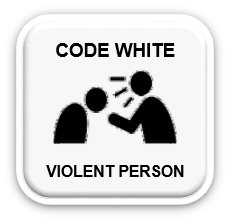 Code White is an emergency code intended for when a patient, visitor, or staff member is displaying aggressive behaviour that exceeds de-escalation efforts and poses an imminent safety threat to themselves or others, therefore requiring additional staff to manage the situation.
How to respond:
Remain calm.
Stay away from the affected area.
Wait for instruction from a staff member.
Code Brown - Hazardous Spill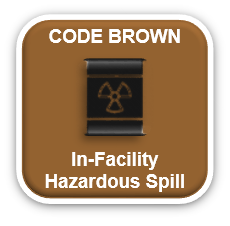 Code Brown provides proper notification and response procedures to an unexpected release of hazardous or potentially hazardous materials at Lakeridge Health.
Any Lakeridge Health colleague who discovers a hazardous material spill will:
Remove people from immediate danger.
Avoid walking, breathing in or having skin contact with the spill. If an individual is contaminated, immediately follow decontamination procedures appropriate to the product and seek medical attention as required.
Alert charge person of the area.
If the spill exceeds the departmental response capabilities, the charge person will:
Contact Telecommunications at 611 (or 5555 at the Ajax Pickering Hospital) and initiate a Code Brown.
Secure the affected area.
Await the arrival of Code Brown response team and ensure any information about the material spilled is available for review.
Code Orange - External Disaster/CBRN/77
Code Orange is used to coordinate a safe and effective response to a potential or actual external disaster that may impact Lakeridge Health's surge capacity or capability, as well as any other event or set of circumstances that may overwhelm the Emergency Department and exceed the resources available to manage such an event.
Code Orange CBRN (Chemical, Biological, Radiological, and Nuclear Event) is activated when the facility is aware of an event involving a chemical, biological, radiological, or nuclear incident whereby the hospital can expect to receive contaminated casualties.
All persons arriving at the hospital declaring they have been contaminated will go through the decontamination procedure before being received into the hospital. The exception will be radiation contaminated patients who will be treated in advance of decontamination if their life is in danger.
Code Orange 77 is an OPG related code.

Code Green - Evacuation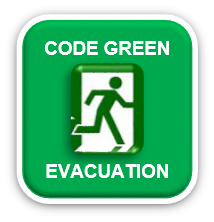 Code Green refers to the need for the rapid, safe removal of patients or occupants from any hospital building, or part of any hospital building under emergency conditions.
The cause for the evacuation could include but not be limited to the following:
Fire/smoke.
Hazardous materials/flood.
Significant loss or failure of essential utilities.
Situations that pose an immediate threat to safety, such as persons with a weapon, bomb threats, and others.
Code Green is broken down in stages:
STAT – A room/area in an immediate risk.
HORIZONTAL – Moving the same level to a different wing or area.
VERTICAL – Moving down a level closer to the exit.
TOTAL – A catastrophic event where the entire facility is compromised requiring everyone to evacuate.
If you are required to evacuate:
Remain calm.
Keep everyone safe, including yourself.
Follow instructions determined by the Incident Manager.
Code Grey - Infrastructure Loss or Failure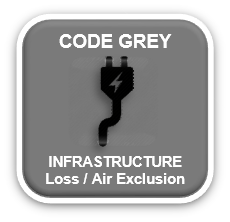 Code Grey is called in the event of an unscheduled/unplanned infrastructure loss or failure of substantial significance at any Lakeridge Health hospital site.
This includes but may not be limited to:
Electricity
Water
Information technology/telephones
Flooding/sewage
Structural damage
The Code Grey Button Down procedure or "sheltering-in-place" is an emergency strategy designed to exclude contaminated external air from entering the building. The contamination could be the result of an event external to the hospital, such as fire, gas leak, or chemical spill. It is an alternative to evacuation, where the potential for exposure is short term and where evacuation is not practical or cannot be carried out quickly and safely for the patients, staff, or others.
Code Purple - Hostage Taking
Code Purple is to be called in the event where any person(s) in the hospital is forcibly confined, seized, or detained against their will with the threat of a lethal weapon or threat of violence. If a situation occurs within the hospital, the Code Purple policy will be followed until police arrive.
Code Black - Bomb Threat, Suspicious Object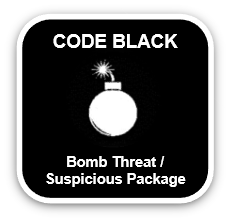 Code Black is called to ensure an immediate, appropriate, and consistent response in the event of a bomb threat or discovery of a suspicious object.
Lakeridge Health is committed to the safety of all hospital colleagues, patients and visitors. Any and all bomb threats received will be treated seriously and handled in consultation with police.
Upon receipt of a bomb threat or discovery of a suspicious object, immediately dial 611 (or 5555 at the Ajax Pickering Hospital). Telecommunications/delegate will then inform police by calling 911 and the Administrator on call. Access to the affected area should be restricted. If staff believe themselves and their unit/department to be in immediate danger, they may choose to evacuate the area following the receipt of a bomb threat or discovery of a suspicious object.
Code Silver - Armed Person, Active or Contained - Weapons Related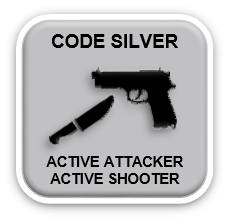 Code Silver is called if there is a threat, attempt, or active use of a weapon to cause harm, regardless of the type of weapon.
NOTE: This code is different from Code White (a call for help). Code Silver will not result in other staff coming to assist, as it is designed to keep people away from harm. Police will be contacted as soon as Code Silver is called.
How to respond:
If you have the chance, run to safety.
If you cannot run to safety, make it difficult for the attacker to see, hear, or find you.
Be prepared to defend yourself. Defending yourself may be your last resort, but it may afford you the chance to run and hide.
Code Pink - Neonatal Medical Emergency (Up to 28 days of age)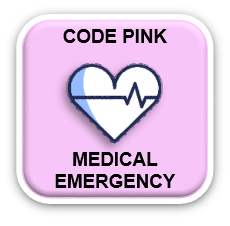 Code Pink procedures aim to ensure best possible outcomes for neonates, ages 0-28 days, experiencing medical emergencies with high risk for or actual respiratory or cardiac arrest.
The purpose of the Code Pink-Neonatal is to outline a timely, efficient, and coordinated response to emergency neonatal resuscitation with consideration of available resources across practice settings, and to outline the roles and responsibilities of the interdisciplinary team members in response to a Code Pink- Neonatal call.
Code Blue Paediatric – Medical Emergency (29 days to 17 years of age)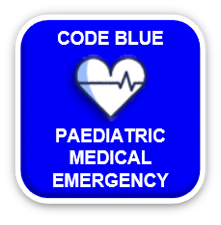 Code Blue Paediatric is called for infants or children up to 18 years of age experiencing medical emergencies with high risk for, or actual, respiratory or cardiac arrest.
Code Blue – Medical Emergency (18 years of age and above)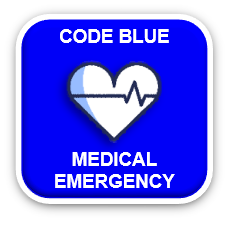 Code Blue is called for all adult patients in cardiopulmonary arrest who appear 18 years and older.
Code Transfusion – Bleeding Emergency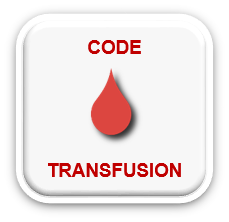 Code Transfusion is activated in the event of a Massive Hemorrhage.