About Lakeridge Health
About Us
With five hospitals, four emergency departments, three critical care units, a long-term care home, a full range of medical and surgical specialties, more than 20 community health-care locations and a state-of-the-art surgical centre within the soon-to-open Jerry Coughlan Health & Wellness Centre, Lakeridge Health offers some of the broadest and most comprehensive acute care, ambulatory care, and long-term care services in Ontario.
Lakeridge Health is also home to several regional specialty centres and services, including the Central East Regional Cancer Program, R.S. McLaughlin Durham Regional Cancer Centre, The Shoulder Centre, and eye care and chronic kidney disease services. Additionally, we are proud to serve our community with a full suite of inpatient, ambulatory, and community-based mental health and addictions services, and provide safe, high-quality, compassionate care in our state-of-the-art long-term care home, Lakeridge Gardens.
Guided by our vision of One System. Best Health. and supported by a dedicated team of more than 8,700 staff, physicians, and volunteers, Lakeridge Health is a proud member of the Durham Ontario Health Team (Durham OHT) and works in collaboration with the Durham OHT, as well as primary care, and community and government partners to foster a truly integrated, regional system of care. Together, we are focused on empowering people to live their best health and fostering an accessible, inclusive, and equitable environment for all.
Our Locations
Ajax Pickering Hospital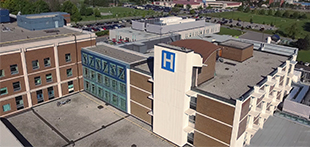 580 Harwood Ave S, Ajax, ON L1S 2J4
T: 905-683-2320
Get Directions to the Ajax Pickering Hospital
Parking Information for the Ajax Pickering Hospital
Update on Ajax Pickering Hospital Helipad
Ajax Pickering Hospital is a full-service community hospital that provides safe, quality care to people who live and work in Ajax and Pickering. Every year, more than 75,000 people visit the Emergency Department (ED) at Ajax Pickering Hospital. Other services include:
The Shoulder Centre
Inpatient and Outpatient Surgery
Women's and Children's Health
Critical Care
Diagnostic Imaging
Outpatient Mental Health Services
Cardiac Care
Diabetes Education
Laboratory Services
In Fall 2019, Lakeridge Health opened a 22-bed inpatient mental health unit at Ajax Pickering Hospital to meet the growing need for mental health services in Durham Region. In addition, improvements to the Ajax Pickering Hospital Emergency Department have enhanced safety as well as the privacy and dignity of people with mental health conditions.
Bowmanville Hospital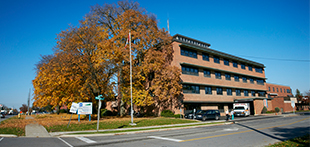 47 Liberty Street South, Bowmanville, ON L1C 2N4
T: 905-623-3331
Get Directions to the Bowmanville Hospital
Parking Information for the Bowmanville Hospital
Bowmanville Hospital Floor Plan
Update on Temporary Bowmanville Hospital Helipad Site
A full-service community hospital, Bowmanville Hospital is home to the Regional Eye Centre providing care to residents of the Municipality of Clarington. Services include:
Emergency and Critical Care
Inpatient and Outpatient Surgery
Complex Continuing Care
Diabetes Education Program
Inpatient and Outpatient Rehabilitation Services
Palliative Care
Diagnostic Imaging
Laboratory Services
Plans are underway to modernize and more than double the size of the Bowmanville Hospital. The Ontario government confirmed its commitment to redeveloping the hospital in the March 2019 Provincial Budget. And the Municipality of Clarington made an incredible $5-million gift toward hospital expansion. Lakeridge Health is currently working with its government partners to move the project through the multi-step hospital capital approval process.
Update on Emergency Transport Services at Bowmanville Hospital
Oshawa Hospital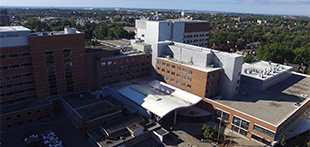 1 Hospital Court, Oshawa, ON L1G 2B9
T: 905-576-8711
Get Directions to the Oshawa Hospital
Parking Information for the Oshawa Hospital
Oshawa Hospital is a full-service community hospital that provides high-quality and safe care to residents who live in Oshawa and Durham Region. It is also home to the world-class R.S. McLaughlin Durham Regional Cancer Centre. Services include:
Emergency and Critical Care
Inpatient and Outpatient Surgery
Stroke Prevention and Treatment
Palliative Care
Inpatient Rehabilitation Services
Cardiac Care
Inpatient and Outpatient Mental Health Services
Women and Children's Health
Dialysis and Kidney Care
Geriatric Assessment and Intervention Network (GAIN) Clinic
Telemedicine Clinic
Diagnostic Imaging and Laboratory Services
Beyond its contribution to the health and individuals and communities, Lakeridge Health is an economic engine in Durham Region, by ensuring a healthy workforce, being an of choice, and forming academic partnerships that spur new research and innovation, generating better treatments and services.
The Lakeridge Health Education and Research Network (LHEARN) at Oshawa Hospital which welcomes students across a broad range of health disciplines as they pursue their studies in state-of-the-art facilities under the guidance of expert instructors. Each year, more than 1600 nursing students and 300 medical trainees receive education and training at Lakeridge Health.
Port Perry Hospital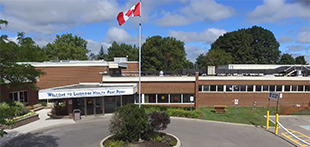 451 Paxton Street, Port Perry, ON L9L 1L9
T: 905-985-7321
Get Directions to the Port Perry Hospital
Parking Information for the Port Perry Hospital
Port Perry Hospital is a full-service community hospital that provides high qualify, safe care to the residents of Port Perry and the broader community of North Durham. Services include:
An acute Emergency Department
Diagnostic Imaging services
The New Life Centre
In-patient medicine beds
Surgical services
Outpatient clinics
Helipad access
Whitby Hospital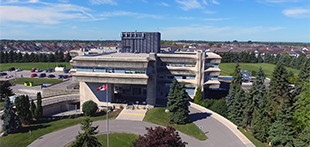 300 Gordon Street, Whitby, ON L1N 5T2
T: 905-668-6831
Get Directions to the Whitby Hospital
Parking Information for the Whitby Hospital
Whitby Hospital is a specialty hospital that provides high quality, specialized care to residents who live in Whitby and Durham Region. Services include:
Dialysis and Kidney Care
Diabetes Education
Outpatient Rehabilitation Services
Neurological Rehabilitation
Positive Care Clinic, Respiratory Rehabilitation
Complex Continuing Care
Geriatric Rehabilitation and Assessment
Our Long-Term Care Home
580 Harwood Ave S, Ajax, ON L1S 2J4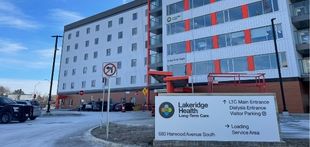 T: 905-428-5201
Lakeridge Gardens is a state-of-the-art long-term care home located next to Lakeridge Health's Ajax Pickering Hospital. Serving the Durham Region, the 320-bed home opened in the spring of 2022.
Below is a list of some of the features and services of this new home:
Evidence-informed infection prevention and control measures, a modern design, and care planning that prioritizes residents' quality of life.
The majority of resident rooms are private. The semi-private rooms have separate bedrooms with a shared bathroom.
The home has some specially designed rooms to support bariatric resident needs.
The second floor includes a specialized behavioural unit with access to a secure rooftop terrace.
A nine-station dialysis unit will also be housed on the first floor of the building. The new dialysis unit will mean an increased quality of life for residents who can access treatment in the comfort of their home. This unit will also be available to those in the community who require dialysis services.
To promote socialization, the home features a landscaped courtyard, four balconies per floor, a hair salon, great room, gift shop, and multiple gathering lounges.
Regional Services
Durham Regional Cancer Centre
Located in Lakeridge Health's Oshawa Hospital, the R.S. McLaughlin Durham Regional Cancer Centre (DRCC) is part of the Central East Regional Cancer Program, delivering top quality cancer care to more than 100,000 families in and around Durham Region.

The health care team treats breast cancer (male and female), gastrointestinal cancer (esophagus, stomach, colon, rectum, liver, and pancreas), genitourinary cancer (prostate, testis, kidney and bladder), gynaecological cancer (ovaries, cervix, uterus and vulva), hematology (lymphomas), melanoma, skin cancer and thoracic cancer (lung and chest).

The Centre also offers a full range of services, including Prevention and Screening, Diagnosis, Treatment, Palliative Care, and Life After Treatment.

Learn more about Durham Regional Cancer Centre Services
Central East Regional Cancer Program
The Central East Regional Cancer Program (CE RCP) is one of 14 Regional Cancer Programs in the province to ensure cancer care is delivered according to province-wide quality standards. The CE RCP oversees the delivery and quality of cancer services for more than 1.6 million residents of Haliburton, Peterborough, Kawartha Lakes, Durham, Northumberland and Scarborough. With our hospital and community partners, we advocate for the best possible cancer care for patients.
Learn more about the Central East Regional Cancer Program
Community Locations
Community Respiratory Services
Lakeridge Health's Community Respiratory Services provides in-home respiratory services to help Durham Region residents breathe better.
Our Community Respiratory Services program provides:
Home Oxygen Therapy,
Continuous Positive Airway Pressure (CPAP) for Sleep Apnea
Complex respiratory illness support
Funding is available through the Ministry of Health and/or private insurers. We are happy to help you with the funding application paperwork. Please call us at 905-721-4800 for more information.
Pinewood Centre
Pinewood Centre provides a variety of services to help people with alcohol, drug, concurrent mental health and gambling related concerns. Our wide range of treatment services includes residential withdrawal management services, residential treatment services, structured community based individual and group services, and walk-in and telephone support. We support client goals and assist clients to focus on methods to reduce the related harms associated with substance use and gambling. Services are also available for family members and personal supports.
Durham Mental Health Services (DMHS)
Durham Mental Health Services (DMHS) is a charitable not-for-profit agency providing services and supports to individuals and families who are living with mental health concerns. Operating under the direction of a volunteer Board of Directors, staff work in partnership with clients, offering services that are person-centred and sensitive to individual needs.
DMHS began operation in 1987 when a coalition of parishioners at Whitby All Saint's Anglican Church recognized that others in the community, suffering from severe mental health issues, were in desperate need of safe, affordable housing. Now, over 20 years later, DMHS has grown into an agency with over one hundred employees. DMHS offers a range of mental health services, including three crisis locations and eight group homes across Durham Region.
On October 1, 2020, Lakeridge Health and DMHS announced a voluntary integration of the two organizations. By working together, Lakeridge Health and DMHS can better coordinate services in both community and acute care settings, facilitate smoother transitions and faster connections to appropriate services, and create a supportive continuum of care for clients.
For more information about DMHS, visit the Durham Mental Health Services website.
Lakeridge Health By The Numbers
View our 2021/2022 Annual Report
Lakeridge Health By The Numbers

| | |
| --- | --- |
| Budgeted Beds | 892 |
| Emergency Department Visits | 198,056 |
| Inpatient Discharges | 34,882 |
| Clinic Visits | 343,383 |
| Surgeries | 36,995 |
| MRIs | 25,067 |
| Mental Health Visits | 20,191 |
| Births | 4,467 |
| Students Trained (including medical trainees) | 2,369 |
| Active Research Studies | 166 |