Gynecologic Oncology Centre
The Gynecologic Oncology Centre at Lakeridge Health is located at the Oshawa Hospital. It provides specialized radiation, chemotherapy and surgical treatment for cancers of the female reproductive system.
This includes cancers of the:
Ovaries
Fallopian tubes
Lining of the abdomen (peritoneum)
Cervix
Uterus
Lining of the uterus (endometrium)
Vagina
Vulva

Your healthcare provider will refer you to the Diagnostic Assesment Program where a nurse navigator will work closely with you, your surgeon and your healthcare team to coordinate your care through the diagnostic process.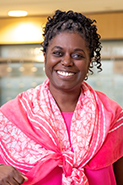 If you have received a cancer diagnosis, treatment for gynecologic cancers may include surgery, systemic therapy, and or radiation therapy. These treatments are offered at Lakeridge Health through our surgical department and the Durham Regional Cancer Centre.
More Information
Location
Oshawa Hospital
1 Hospital Court, Oshawa ON L1G 2B9