Jerry Coughlan Health & Wellness Centre
Lakeridge Health is growing! The Jerry Coughlan Health and Wellness Centre will be a new medical centre bringing services closer to home for people living in the area. The modern multi-storey building will be located at 2580 Brock Road on 2.3-acre property that is currently owned by Lakeridge Health.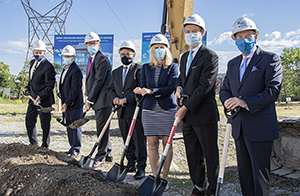 Types of services expected to be offered in the new Centre include Lakeridge Health outpatient services as well as independent physician offices, other health professionals and an urgent care centre. In addition, we anticipate that a pharmacy, laboratory and diagnostic services will be co-located in the building.
At Lakeridge Health, we are committed to providing timely access to safe, high quality care to all the communities we serve across Durham Region. With this area of the region expected to grow by more than 60,000 people over the next decade, the Centre will support more convenient access to healthcare for people living in the North Pickering community.
Watch for more details on the project through this website in the coming months.
Centre Updates
Chinese - Farsi - French - Gujarati - Hindi - Punjabi - Spanish - Tamil - Urdu