Rapid Access Addiction Medicine (RAAM)
COVID-19 Related Service Changes
Due to COVID-19 related service changes, the Rapid Access Addiction Medicine (RAAM) clinic is now booking in-person appointments for new patient assessments at Pinewood Centre (300 Centre Street). There are no appointments at the hospital site and no walk-in services at this time. Follow up appointments will be by telephone. Please call 905-576-8711 ext 37226 and leave a message to have an Addictions Counsellor call you back about the clinic.
Rapid Access Addiction Medicine (RAAM) Clinics
Rapid Access Addiction Medicine (RAAM) clinics offer fast access to quality care for people living with alcohol and opioid-related addictions. Services include medical treatment and counselling services without a doctor's referral.
RAAM Patient Information Sheet
Our RAAM clinics are part of Ontario's strategy to prevent opioid addiction and overdose. Lakeridge Health is leading the Opioid Strategy Action Group.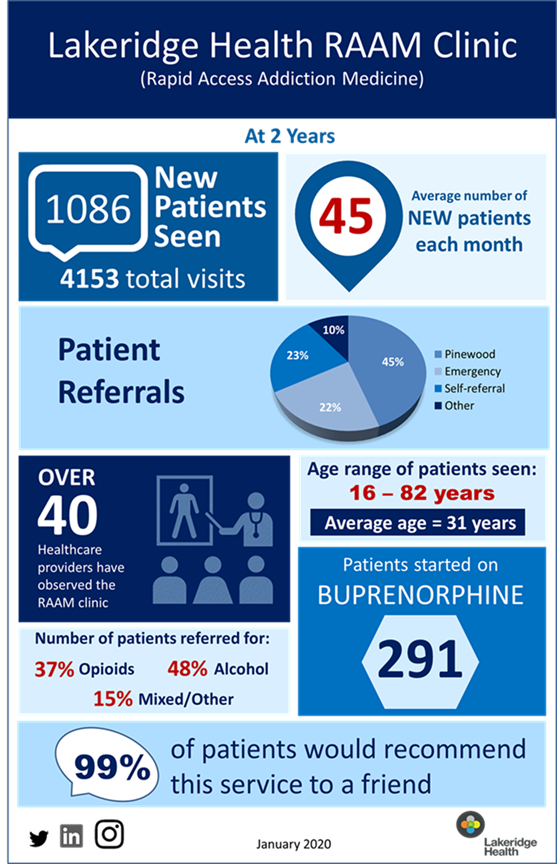 We help people with alcohol, opioid or other drug-related addictions by providing:
Assessment of substance use disorders and review of treatment options
Medications for alcohol and/or opioid use disorders
Overdose prevention education and take-home Naloxone kits
Referrals to Pinewood Centre addiction services and other services as needed
Management of alcohol and opioid withdrawal
RAAM Clinics help manage addictions and offer quick access to quality care, which reduces the impact on the number of opioid overdoses that are being managed in hospital Emergency Departments.
Contact
Pinewood Centre
300 Centre St. S., Oshawa
905-576-8711 ext. 3 RAAM (37226)
Referral Options
Call 905-576-8711 ext. 37226 for an appointment
Fax: 905-723-8139
Lakeridge Health Order Entry (RAAM)