Interventional Radiology
Interventional radiology is a growing specialty of radiology that provides minimally invasive, targeted treatments performed using imaging for guidance. Interventional radiologists use their expertise in reading X-rays, ultrasound, MRI and other diagnostic imaging, to guide tiny instruments, such as catheters, through blood vessels or through the skin to treat diseases without surgery.
There are lower risks associated with interventional radiology than open surgery and most procedures can be performed on an outpatient basis. Some may require a short stay in hospital.
Our interventional radiology team is made up of a radiologist, a specially-trained nurse and a technologist, who work closely with our cancer and kidney care programs.
Together, they provide a wide range of services, including: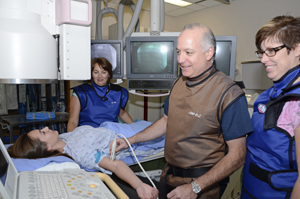 initial biopsy for cancer diagnosis
insertion of vascular access for chemotherapy and antibiotic treatments (Ports and PICC lines)
insertion of stents to alleviate blockages due to liver or bowel cancer
insertion of catheter for dialysis
insertion of feeding tubes
uterine embolization for symptomatic uterine fibroids
vertebroplasty (injecting bone cement into spine fractures)
radiofrequency ablation
Interventional radiology is available at our Oshawa site through a doctor or specialist referral.
Directions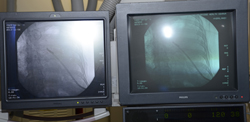 Enter Lakeridge Health Oshawa from the main lobby and follow the signs for Diagnostic Imaging located in G-Wing, 1st floor
Please note: depending upon your procedure, you may be asked to report to another area other than the Diagnostic Imaging Department before your procedure.
Contact
The Interventional Radiology Booking Department can be reached at 905-576-8711 ext. 33527 Monday to Friday, 8 a.m. to 4 p.m. An answering machine is available after hours.
What you need to bring
A list of medications that you are currently taking.
A friend or family member, who can help ask questions and may be needed to help drive you home afterward, depending upon the procedure.
For more information