Fracture Clinic
If you've broken a bone or recently had surgery, you may be seen by your surgeon or a member of our health care team in the Fracture Clinic. We also provide urgent care to families who come to us from our Emergency Room, which makes the Fracture Clinic one of the busiest areas of the hospital. Services provided include casting, splinting, removal of stitches, x-rays, and patient education.
Please contact your surgeon's office directly for more information about your appointment.
Lakeridge Health Oshawa - Make an Orthopaedic Fracture Clinic referral (physician use only)
Lakeridge Health Oshawa - Referrals to Orthopaedic Fracture Clinic
Upper Body Patient Information
Upper Body Patient Information
Lower Extremity Patient Information
Contact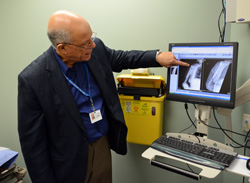 Lakeridge Health Oshawa
1 Hospital Crt.
Oshawa, Ontario
Directions
At our Lakeridge Health Ajax Pickering site, enter through the West Entrance, turn left at the fracture clinic sign.
At our Lakeridge Health Oshawa, from the main lobby, turn right into the corridor leading to N-Wing. Continue past the Emergency Department and down the hallway to the Fracture Clinic on your right-hand side.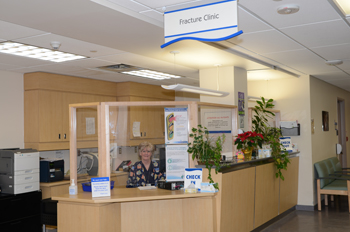 Fracture Clinic Screening Program
We offer osteoporosis screening for men and women over 50 who have broken a bone from a simple fall.
The Fracture Clinic Screening Program offered at our Oshawa site is designed to help older adults who may have needlessly fractured a bone because their osteoporosis has gone undetected and untreated. The program was developed and is offere in partnership with Osteoporosis Canada as part of the Ontario Osteoporosis Strategy.