Life After Treatment
As you finish your cancer treatment, you and your family may have questions about your future. This is normal. You may feel happy and relieved that you have finished your treatment. You may also feel tired, worried, scared, angry or alone. This is a time of change for you and your family as you adjust to a new normal.
You will be scheduled for our After Cancer Treatment Group Teaching. At this appointment, you will meet with members of your healthcare team and other patients and their family caregivers. Together, you will learn about:
Your new normal
The next steps in your care
Your side effects
Your worries and fears
What you can do to live a healthy lifestyle
Resources and supports available to you and your family members
You will still need to see your oncologist for follow-up visits. These appointments will not be as often. The size of your health care team will be smaller than when you were in active treatment. It is very important that you make an appointment to see your family doctor. Your family doctor is responsible for your ongoing care and will want to see you regularly for appointments.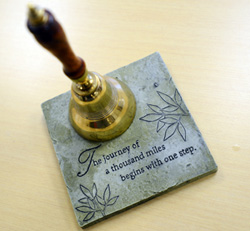 We have a tradition in our chemotherapy suite. After a patient finishes his or her final treatment, they get to ring a bell that sounds throughout the treatment area. It's a great moment. It is also a great privilege for our team to share in it.
Where to go for support
Connecting to Resources in Your Community
Our social workers can give you information about the supports and resources in the community. Call 905-576-8711 at extension 3282 to talk to a social worker.
One to One Peer Support/ Support Groups
We want to hear from you
How can we improve the patient and family experience at our cancer centre? As someone who recently had care from our team, you could give us helpful feedback. One way that you can do this is to join our Patient and Family Experience Advisory Group. Patients or their family caregivers are welcome to join the Advisory Group. The Group meets every two months. If you would like more information about this, please call Debbie Devitt, Patient Experience Lead at 905-576-8711 at extension 6401.
More Information