The Association of Hospital Volunteers - Bowmanville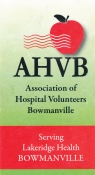 Memorial Hospital Bowmanville opened its doors in 1912 thanks to the efforts of many volunteers involved in the fundraising for such a need. In 2017 the Association of Hospital Volunteers Bowmanville will celebrate the 105th anniversary of volunteer involvement in the hospital. The most recent statistics show that over 17,440 volunteer hours were committed to the hospital by approximately 200 adult and student volunteers at LHB in 2015-2016.
The Association operates two retail businesses: Treats and Treasures Cafe and The Gift Shop off the main lobby in the hospital, open 7 days a week, and the New to You Shoppe, off-site at 133 Church St., open 6 days a week, selling gently used items. When requested by the hospital social worker, the Shoppe provides clothing and necessities for needy patients. The profits from both locations are returned to the Association to support its work.
The HELPP Lottery volunteers raise funds to purchase equipment through the sale of break open tickets. Recent purchases include a centrifuge for the lab, state of the art patient bed, and vaccine refrigerator for the pharmacy.
Other Association fundraising events include: Flagons in a Wagon raffle, a yard sale, Tag Days held the last weekend in May, and bake sales prior to major holiday weekends.
Association funds have most recently purchased an operating room table and electrocardiogram bed (approximately $60,000). As well, three bursaries totaling $5,000 for students continuing post-secondary education and a discretionary fund for the chaplain are funded by the Association.
Volunteer Areas at Lakeridge Health Bowmanville
Services
H.E.L.P.P. Lottery
New To You Shoppe (downtown)
Hospitality
Treats and Treasures Cafe
Volunteer Resources
Patient Focused
Eye Centre
Eye Laser Clinic
Friendly Visiting
Hymn Sing
Spiritual and Religious Care Support
Volunteer C.A.R.E. Team
Recreation Program