Giving Tuesday
Community and Hospital Champions Honoured on Giving Tuesday
After shopping on Black Friday and Cyber Monday, millions of Canadians from across the country joined a movement dedicated to giving back. November 28 2017 marked Giving Tuesday, a national day that encourages supporting a cause that is important to you.
Lakeridge Health Foundation took the opportunity to give thanks and celebrated two very important advocates for the hospital. The Community and Hospital Champion Awards are presented to a group in the community, as well as a staff member or volunteer who have demonstrated an outstanding commitment to Lakeridge Health.
The Community Champion Award was given to long-time supporter Gus Brown and his team at Gus Brown Buick GMC in Whitby. Over 60 smiling employees were honoured at the dealership on Tuesday - their organization has helped support Lakeridge Health for over 22 years.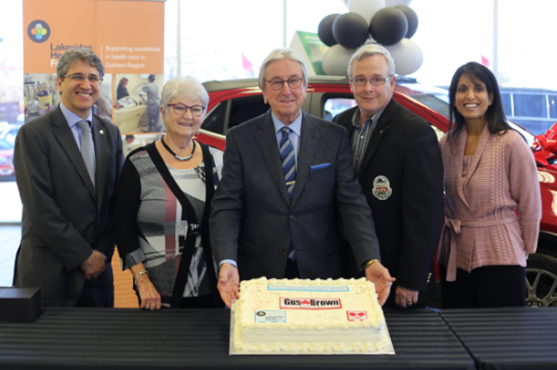 "We're thrilled to be recognized by the Foundation today," Gus Brown said. "Supporting Lakeridge Health over the years has been extremely important to us. Our charity golf tournaments have raised over $1 million to support the hospital and the Cancer Centre - we're happy to be a part of such a special cause in our community."
Having community partners like Gus Brown is critical to the success of Foundation activities and campaigns. "Their help and support truly is monumental to the work the Foundation does," Yves Gadler, President and CEO of Lakeridge Health Foundation explained. "It's our pleasure to be here today and to say thank you for everything they have done."
The celebrations continued into the afternoon at Lakeridge Health in the LHEARN Centre, where the Foundation presented their Hospital Champion Award to advocate, retiree, and friend of Lakeridge Health, Lydia Antalfy.
Her dedicated involvement in the Foundation's Interventional Radiology campaign, as well as her long-time volunteer work has become unrivaled.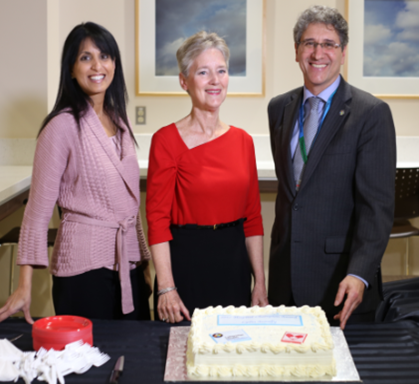 "We couldn't have done it without her," Dr. Soania Mathur, Chair of Lakeridge Health Foundation Development Committee said. "We're so incredibly grateful for having an advocate like Lydia; today's celebration is just a small token of our appreciation."
Supporting the hospital through various Foundation campaigns, events, and initiatives are all effective ways to give back - something which is very important to Lydia.
"I always felt like it was my duty as an employee of Lakeridge Health to support the Foundation," Antalfy said. "Giving back to the hospital is something that benefits everyone."
If you would like to learn how to become involved with the Foundation, please contact us at 905-433-4339 or foundation@lakeridgehealth.on.ca.