Giving Tuesday
Community & Hospital Champions Honoured at Giving Tuesday Awards Ceremony
The Tuesday following Black Friday and Cyber Monday marks a special occasion, Giving Tuesday, a national day of philanthropy that encourages giving back to a cause that's important to you. It's a movement that has picked up momentum across the country. Instead of asking for donations, Lakeridge Health Foundation takes this opportunity to give thanks during their Giving Tuesday Awards Ceremony. The ceremony recognizes two of their largest supporters by naming Community and Hospital Champions each year. Hospital staff, grateful patients, and Foundation supporters gathered to celebrate the 2018 recipients.
"It's important for us at the Foundation to honour those advocates who go above and beyond to raise awareness and funds for local health care. I'm honoured to recognize them today," Yves Gadler, CEO of Lakeridge Health Foundation explains.
The 2018 Community Champion Award is given to an individual or group in the community who demonstrates an outstanding commitment to the Foundation through financial support, charitable events, and volunteering. The Wolfpack Charity Golf Tournament has not only met this criteria; but exceeded it. It is the Foundation's pleasure to recognize the team behind this tournament. Inspired by their friends and family who have battled cancer, this wild group of golfers have raised over $200,000 for the R.S. McLaughlin Durham Regional Cancer Centre over the past nine years. They've recently completed their 10th Annual Golf Tournament, raising a record breaking donation of over $38,000 in early September.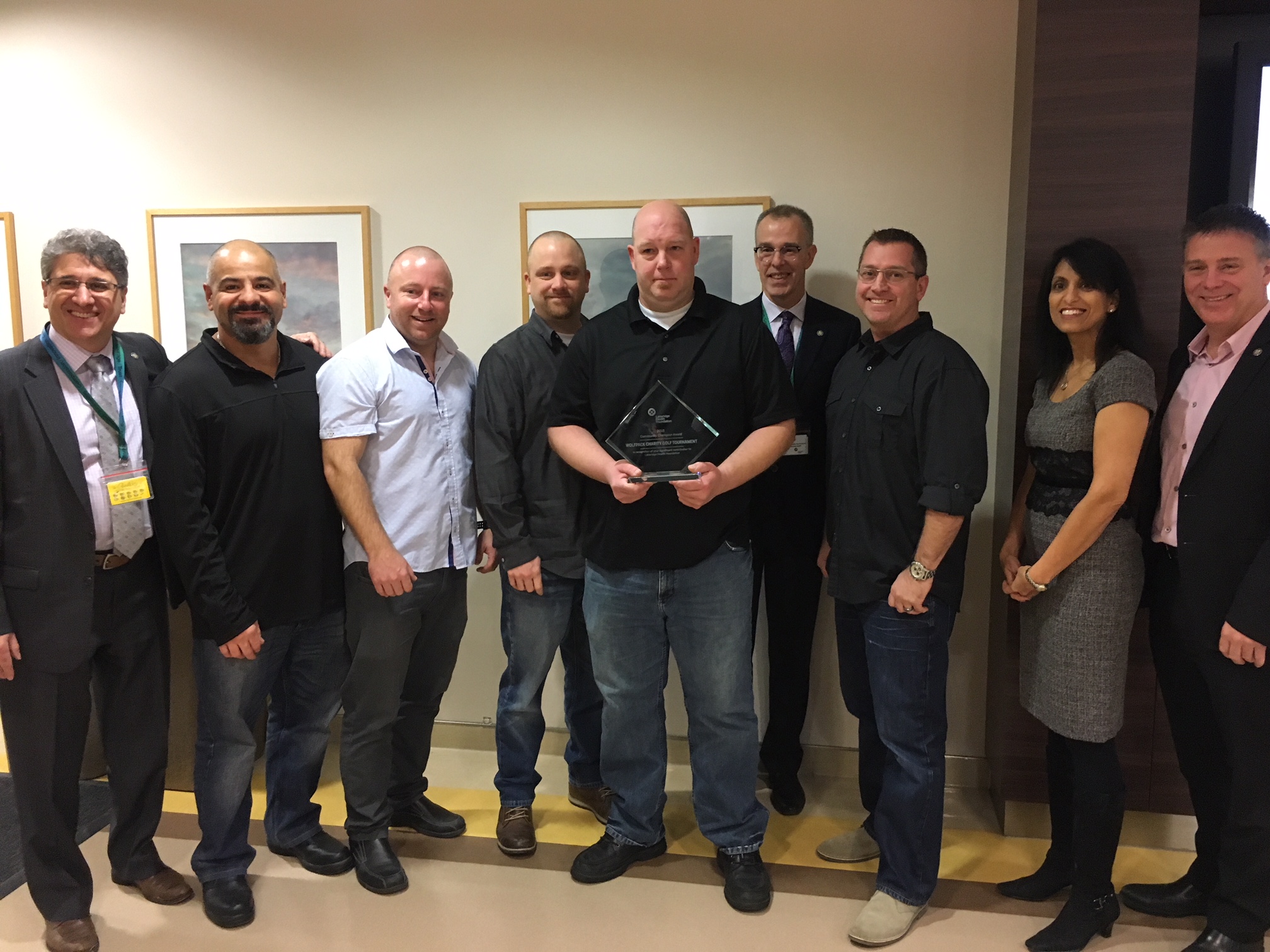 Wes Houston, a member of Wolfpack expressed his gratitude for the tournament receiving the recognition. "This tournament started as a way for us to give back, and to help those we know who have battled the disease. We knew by donating the funds into our community through Lakeridge Health Foundation was the ideal choice to make sure the money was used the best way possible, and we're honoured to be recognized today."
In addition to recognizing a community member or initiative, an internal champion was also honoured. The Hospital Champion award is dedicated to a staff member or volunteer at Lakeridge Health who has worked closely with the Foundation in a way that has directly impacted fundraising. This year's Hospital Champion was Dr. Audrey Li, an oncologist in the R.S. McLaughlin Durham Regional Cancer Centre who has a reputation with her patients and team as a kind and compassionate expert. So much so that many members of her team and even a patient attended the ceremony to celebrate with her.
Dr. Li has participated in several fundraising initiatives with the Foundation, and is always eager to help advocate for local health care. She is also the most honoured staff member in the Foundation's grateful patient program, Circle of Gratitude – having been recognized five times with donations made in her name.
"I am so honoured and grateful to receive this important award today. I want to thank the Foundation for this recognition and all of the work it does to help support the Cancer Centre. I share this award with a huge team of amazing and incredible staff at the DRCC that I have the pleasure of working with every day. I couldn't do what I do without them and their support. Also, countless thank you's to my patients who are the true hero's and for always being my biggest fans. I have the best job ever." Dr. Li says.
Giving Tuesday represents more to Lakeridge Health Foundation than receiving donations – it's about community, working together, and delivering excellent care to those who need it most. With advocates like Wolfpack and Dr. Li, we know we can make giant strides in raising awareness and funds for local health care.