Novel Coronavirus (COVID-19)
How to schedule your COVID-19 Vaccine
To book at a Lakeridge Health-run clinic, please go to covidvaccine.lh.ca. To book at a Public Health- run clinic you can schedule your appointment online or by calling 1-888-444-5113.
More information about Ontario's COVID-19 vaccination plan is available on the Government of Ontario website at: https://covid-19.ontario.ca/ontarios-covid-19-vaccination-plan.
Tips for Reducing Vaccine Anxiety
The Ministry of Health has created a number of resources to help:
New guidance on third doses for special populations
A complete two-dose COVID-19 vaccine series provides strong protection against COVID-19 infection and severe outcomes, including against the Delta variant of concern, for most people. However, certain people who have underlying medical conditions that compromise their immunity are at an increased risk of severe outcomes from COVID-19 and have demonstrated the need to have a third dose.
In keeping with the Ministry of Health recommendations, Lakeridge Health has made the third dose available for individuals who qualify. (We ask individuals to speak to their primary care provider if they are unsure whether they need a third dose of the COVID-19 vaccine.)
For Primary Care Providers and Specialists: Please use this form to refer patients for a third dose of Pfizer or Moderna vaccine at the Oshawa vaccine clinic run by Lakeridge Health.
The form must be completed and faxed to 905-721-4876.
The clinic will contact the patient to schedule an appointment upon receipt of the form.
Walk-in patients with the form in hand will not be accepted. The form must be faxed by the primary care provider/specialist
Mass COVID-19 Vaccination Clinics
Ajax and Oshawa Vaccination Clinics Remaining Open
Durham Region Health Department and Lakeridge Health have extended the timeline for the COVID-19 mass immunization clinics located in Oshawa and Ajax to remain open until the end of 2021. These clinics were slated to close by mid to late September, but both clinics will now remain open, joining the list of walk-in, pop-up, and mobile clinics being offered in numerous communities throughout Durham Region.
Both COVID-19 immunization clinics at the Audley Recreation Centre in Ajax (run by Durham Region Health Department) and the Ontario Tech Campus Ice Centre in Oshawa (run by Lakeridge Health) will provide access for walk-in opportunities and booking appointments. For clinic addresses, hours of operation, or to book an appointment, visit covidvaccine.lh.ca or durham.ca/covidvaccines.
If you need a first or second dose vaccine appointment and wish to book at Oshawa Campus Ice Centre, you can book at covidvaccine.lh.ca or walk in on the dates and times outlined below:
Hours and Dates of Operation
We are open from 9:30 a.m. to 6:00 p.m. on the following dates;
October 21, 22, 26, 27, 29, 30

November 2, 3, 4, 8, 9, 12, 13, 17, 18, 19, 22, 23, 25, 26, 27, 30


December 1, 2, 6, 7, 9, 10, 11, 14, 15, 16, 20, 21
Please visit the Durham Region Health Department website, www.durham.ca/covidvaccines for more information on these locations. Additionally, pharmacies and some primary care providers are offering vaccine in the community.
All Durham Region residents are encouraged to get vaccinated with a first and second dose as soon as they are eligible. This will protect themselves and others against variants of concerns, including the Delta variant that is circulating in Durham Region.
The COVID-19 vaccine is recommended for anyone age 12 years or older. If you have any questions about the Oshawa Campus Ice Centre clinic, please send a note to oshawavaccine@lh.ca.
Updated as of September 14, 2021
Third Parties and COVID-19 Vaccine
As mandated by the Province of Ontario's Directive #6, Lakeridge Health has introduced a COVID-19 vaccination policy that includes requirements for third-party organizations. To provide the safest possible environment for our patients, families, and health-care teams, Lakeridge Health is making COVID-19 vaccination mandatory for third parties (including contractors, vendors, service providers, and their subcontractors).
Effective October 1, 2021, all employees or agents of any third-party organizations who come into buildings operated by Lakeridge Health are required to follow Lakeridge Health's policy related to the COVID-19 vaccination.
To comply with this policy, Lakeridge Health requires that a representative from each third-party organization complete an online declaration certificate. The certificate requires the third-party to confirm that all members of their organization entering buildings operated by Lakeridge Health are:
Fully vaccinated, or
They have provided the third-party organization with written proof, from a physician or nurse practitioner, of a medical reason for not being fully vaccinated against COVID-19. Additionally, they are receiving regular antigen point-of-care testing for COVID-19 and are demonstrating a negative result at least once every seven (7) days.*
Note: Fully vaccinated means having received a full series of COVID-19 vaccines authorized by Health Canada, or a combination of such vaccines.
*Third parties will be allowed to accept weekly antigen test results as an option from their members until October 22, after which this option will no longer be acceptable.
One certificate is to be completed on behalf of all members of the third-party organization. Therefore, the representative completing the certificate must be someone with the authority to act on behalf of the organization's members.
The certificate is required only for organizations whose members come into buildings operated by Lakeridge Health. Failure to complete the certificate prior to members entering a building operated by Lakeridge Health will result in the members being asked to leave the building.
If you are a representative of a third-party organization, and you need to complete this certificate on behalf of your members, please visit this link to complete the certificate. If more than one person at Lakeridge Health has asked you to complete the certificate, please note that you only need to complete one (1) copy of the certificate for all of Lakeridge Health. Please provide a separate copy of your completed certificate to different Lakeridge Health leaders if requested.
How can I get more information about the COVID-19 vaccine?
The Sick Kids team of paediatric Registered Nurses are ready to listen and answer your questions about the COVID-19 vaccines.
Lakeridge Health Virtual Urgent Care is accepting general COVID 19 vaccine inquiries.
Vaccine Confidence Line (available at the Provincial Vaccine Contact Centre) 1-833-943-3900 (TTY for people who are deaf, hearing-impaired or speech-impaired: 1-866-797-0007).
What to do if you think you have COVID-19
After December 11, 2020. We will no longer offer COVID-19 tests for travel, including domestic and international trips. This change is based on provincial guidance.
Some commercial COVID-19 testing sites may test travelers for a fee. If you require a test for travel, please explore these options in your community. Please also consult your travel carrier's guidelines and the Government of Canada Travel Website for requirements to your destination. If a COVID-19 is required, please budget ample time for testing and to receive results prior to your departure.
What do to if I'm asymptomatic and have been exposed?
If you are concerned that you have COVID-19 or that you may have come into contact with someone who has COVID-19, please contact Telehealth Ontario at 1-866-797-000, your primary care provider or complete the online self-assessment tool to determine what to do. If you need urgent medical care, please call 911.
Regarding asymptomatic community members who have been exposed: They are encourage to be tested 7 days from their exposure. Close contacts who develop symptoms should be tested/re-tested as soon as possible:
Close contacts without symptoms who have had ongoing exposure to the case (e.g. live in same house or worked together on multiple days) should be tested as soon as possible.
Close contacts without symptoms who did not have ongoing exposure or only had contact to the case on a specific occasion should be tested 7 days from your last exposure to the case.
COVID-19 Assessment Centre Locations in Durham
Durham Regions COVID-19 Assessment Centres are located at:
Clarington - Garnet B Rickard Arena - 2440 Durham Regional Hwy 2, Bowmanville
Downtown Oshawa (Parking Garage) - 1 Mary Street
Pickering - 1101 Kingston Road - a drive-thru location
Pickering Chestnut Hill -1867 Valley Farm Road - Located at the back, do not enter through arena. Enter beside patio
Port Perry - Prince Albert Hall - 19 Jeffery St.
Sunderland - 120 River Street
Whitby Haydenshore Pavillion - 589 Water Street
COVID-19 Assessment Centre Hours of Operation
Clarington Assessment Centre (Closed on Holidays)
Monday, Wednesday, Friday 9 a.m. - 4 p.m.
Tuesday, Thursday 12 - 7 p.m.
Saturday 9 a.m. - 1 p.m.
Downtown Oshawa Assessment Centre (Closed on Saturdays)
Monday to Friday 9 a.m. - 6 p.m.
Sunday 9 a.m. - 3 p.m.
Open for a limited number of walk-ins from 3 - 5 p.m. Monday-Friday
Pickering Assessment Centre (Closed on Saturdays and Holidays)
Monday to Friday 10 a.m. - 6 p.m.
Sunday 11 a.m. - 3 p.m.
Pickering Chestnut Hills Assessment Centre
Monday to Friday 9 a.m. - 7 p.m.
Saturday & Sunday 8 a.m. - 4 p.m.
Holidays 8 a.m. - 4 p.m.
Port Perry Assessment Centre

Monday, Tuesday 8 a.m. – 8 p.m.
Wednesday, Thursday 12 - 8 p.m.
Friday, Saturday, Sunday 12 - 4 p.m.
Open for a limited number of walk-ins from 12 - 3:45 p.m. daily
Sunderland Assessment Centre
Whitby Assessment Centre
Monday to Friday 9 a.m. - 5 p.m.
Saturday 10 a.m. - 2 p.m
No walk-in patients are accepted. Patients will be contacted by the Assessment Centre based on the results of their assessment form.
Accessing a COVID-19 Test in Durham Region
To ensure people who are most in need of a COVID-19 test receive one, we are only testing individuals who meet one or more of the following criteria in a COVID-19 Assessment Centre. **NEW** If this applies to you, please complete the assessment form:

Were told by public health or notified by the COVID-19 Alert APP that they were exposed to the virus;
Work or live in a place where there is an outbreak and were told by public health to get a COVID-19 test;
Work or reside in a long-term care home, shelter, retirement home, group home or other congregate care/shared living settings;
Were identified as part of a targeted guidance as directed by the Ministry of Health or the Ministry of Long-Term Care or by public health*
Are you eligible for a COVID-19 Testing (flow-chart)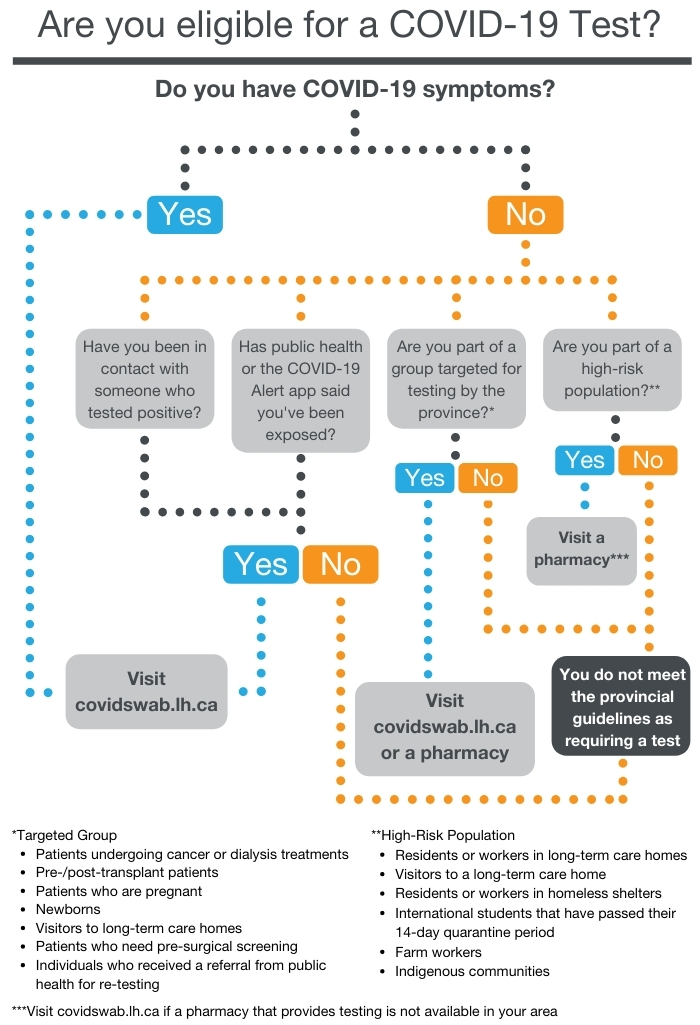 Need help scheduling a test?
If you do not have a computer or WiFi, contact DRHD for assistance at 1-800-841-2729. Your appointment will be booked at one of the COVID-19 Assessment Centres listed below. Anyone who is seriously ill or in medical distress should call 911 and be seen at one of our Emergency Departments.
On September 24, 2020 the Ontario government released new guidelines related to COVID-19 testing. In alignment with the new provincial guidelines on COVID-19 testing, all Durham Region COVID-19 Assessment Centres have shifted away from asymptomatic (not showing symptoms) testing. If you do not meet the criteria, but still want a COVID-19 test, please visit Ontario's COVID Test page for more detailed information about testing.
Testing at Pharmacies
Some pharmacies now offer COVID-19 testing for people without symptoms who need a COVID-19 test. Please visit Ontario's COVID Test page for information on whether you are eligible for testing, how to book a test and for pharmacy locations near you.
To help prevent the spread of communicable illnesses such as the flu, colds or COVID-19, we encourages everyone to continue to follow COVID-19 public health measures including wearing a face covering; frequent handwashing; and maintaining physical distance from those outside their household or social circle and downloading the COVID Alert mobile app. Download on Ontario's COVID Test page.
Waiting for your Test?
Individuals typically receive results from their test in 5 - 7 days. However, the wait time can vary and may take longer. If individuals are unable to find their results through Ontario.ca after this period of time, they can call the COVID Assessment Centre results line at 905-721-4842.