Community Champion Award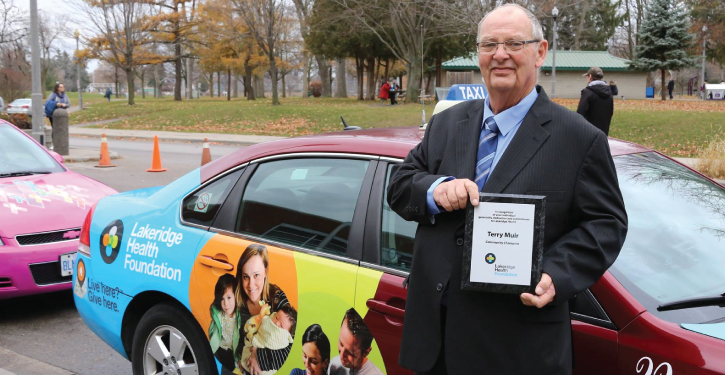 Introducing the Community Champion Award
Cham.pi.on: someone who advocates strongly for a cause
In 2016, Lakeridge Health Foundation introduced a new award recognizing community champions who have dedicated their time and energy to helping raise awareness and funds for Lakeridge Health.
The inaugural award was announced on Giving Tuesday, a special day dedicated to giving back following the madness of Black Friday. At Lakeridge Health Foundation, Giving Tuesday is an opportunity to give thanks to those who have gone above and beyond to help advance health care in Durham Region.
2016 Award Winners: City Wide Taxi and Terry Muir
The first Community Champion award recognized City Wide Taxi and its employee Terry Muir with a special celebration in the hospital.
For four years City Wide Taxi has been hosting the Cabs for Cancer Golf Tournament which has raised $26,000 for cancer care in our community. Aside from the tournament, Terry Muir has arranged for six flat screen TVs to be installed at the hospital and organized gift deliveries to the paediatric department on Easter and Christmas. In 2015, City Wide Taxi partnered with Lakeridge Health Foundation to brand four cabs to promote the Foundation and early 2016 a pink cab was introduced to also raise funds for cancer care at the hospital. In just six short months the flashy cab donated over $5,000 to Lakeridge Health Foundation.
Thank you City Wide Taxi and Terry for your commitment to local health care!