Vehicle Contest
Have you seen our branded vehicles?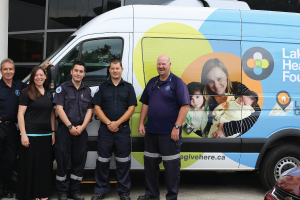 Four CityWide Taxi cabs and one Voyageur patient transfer vehicle have hit the road with an important Lakeridge Health Foundation message: Live here? Give here.
If you live in Durham Region, we hope you will support Lakeridge Health, one of Ontario's largest community hospitals - your hospital. By making a donation to Lakeridge Health Foundation, you'll be improving the lives of your friends, neighbours and loved ones.
A very big thank you to our generous donors and partners City-Wide Taxi, Voyageur Patient Transfer and GetWrapped for making this amazing project come to life!
Tweet us and Win!
If you see one of our City-Wide Taxi cabs or Voyageur patient transfer vehicle on the road take a photo and tweet @lakeridgehealth with the hashtag #liveheregivehere to win a special prize.
Tweets will be collected until September 30, 2015 and the lucky winner will be contacted on October 1, 2015.