The Taylor Family
Every day is a gift. And every gift helps a family in need.
In 2009, Oshawa residents Dave and Karen Taylor received the exciting news that their family was expanding! Already the parents to daughter Ava, Karen found out she was expecting spontaneous twins.
Karen, a Cardiac Rehabilitation Therapist at Lakeridge Health and Dave, a Sergeant with Durham Regional Police, were thrilled with the news but Karen's pregnancy soon turned challenging. "My experience was difficult and included several emergency visits, hospital stays, appointments and two surgeries," she recalls, "We depended on a large team of medical professionals to guide and support us."
In September of that same year, three months before anticipated, Karen went into early labour and two little boys, Brodie and Dawson, were born weighing just 2 pounds.
"Our daily existence for the next few years would depend on the hospital and medical communities."
What followed were months of complicated treatments and surgeries that would see the Taylor's on a 4-hospital tour from Toronto to Oshawa's Lakeridge Health. "Our days went from 12-14 hours of commuting, packing meals, breast pumps and child care scheduling to a somewhat normal schedule back in our own community. Finally we had a short drive to the hospital and more quality time at home with our eldest daughter Ava," says Karen.
But the first few months with Dawson and Brodie continued to be wrought with more than the typical challenges of premature twins. Both boys had two life-threatening hospitalizations within the first month of being home.
"Every 6-8 weeks Brodie would become ill with a virus that would attack his upper airway rendering him unable to breathe on his own. It wasn't until he was over a year old that he was diagnosed with 'subeppliglottal cysts' which blocked all but 1/16 of his airway," says Karen.
The cysts were successfully treated but the Taylor's started to notice Brodie having difficulty moving around when his brother was developing much faster. Shortly after his first birthday Brodie was diagnosed with Cerebral Palsy and the Taylor's medical team broadened once more.
During this time, Karen and Dave still had many ongoing hospital visits that continued to remind them how fragile life can be. Karen's first year back to work at Lakeridge Health was met with 86 hospital days for her two sons. But their family remained strong and felt supported by their local community and friends.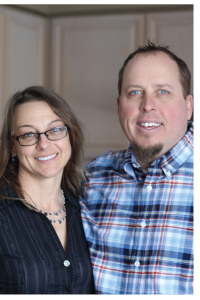 "After having a relatively hospital free life prior to having children, Dave and I learned that access to medical care is critical to the health and well-being of our family, and other families too. It's in the best interest of the communities we live in to support those resources we so heavily and relentlessly rely on."
"Dave and I are happy to support our community hospital and in turn, the partners that were there for us when we needed them most."
Today, the Taylor household is like so many other young families - chaotic. The kids storm the house after school and immediately there are squeals of excitement, jumps off the stairs and even a broken piggy bank. The Taylor's story is an incredible one that reminds us that every day is a gift and each moment together is precious.
"We may not have enough to name a wing or room, but we are generous enough to share the fortune we do have. After all, what holds any greater meaning in life than to share in good fortune and care for one another?"
For many years Dave and Karen Taylor have donated their cottage to Lakeridge Health Foundation's gala as a live auction item. To date, the cottage has secured well over $10,000 for critical and life-saving equipment needs at Lakeridge Health so Durham Region families can receive the same high quality care the Taylor's have come to rely on.
Learn more about the Taylor's journey and watch their inspiring video!