Janie Kelly

"People who make a difference deserve to be recognized."
Having a sick family member is one of the toughest experiences for someone to go through. It can be hard emotionally, mentally and physically. Yet for Janie K., the devastating experience of losing her mother, Lynda, to cancer introduced her to an extraordinary health care team at Lakeridge Health.
"Mom and dad lived in Sunderland so their commute was manageable. If they had to go to Toronto, we would not have had as much time with her. My mom was never one to venture far from home, so being close to home and having my dad with her along the way was paramount." Luckily, Lakeridge Health's R.S. McLaughlin Cancer Centre was a short 45-minute drive away from home for Lynda. In March of 2013, Janie's mother was diagnosed with small cell lung cancer. The condition was so severe that just five days later she was receiving chemotherapy treatment at Lakeridge Health. This diagnosis came as a surprise to Lynda and her family including her husband, a 17-year cancer survivor.
During her mother's treatment, Janie was able to attend every appointment with her doctors to help her parents process some hard to hear and difficult information. Janie was welcomed with open arms by staff and always felt comfortable asking questions and clarifying information.
"All of the people at the Cancer Centre helped to make it more manageable along the way," says Janie. "For that, we are eternally grateful."
During the course of her mother's treatment, Janie and her family met nurses, doctors and volunteers who made a lasting impression. Dr. Wierzbicki and Sue, his nurse, as well as Dr. Iqbal provided the family with support and the resources needed to cope with the situation.
"Sue was a guardian angel to us," reflects Janie, "she was always there for us if we needed something. We could call for advice and she would get back to us right away. We always felt we were in good hands."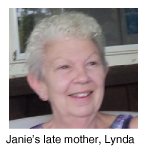 Sadly, Lynda passed away after a yearlong battle with cancer. Although it was a tough time in Janie's life, she decided to donate to Lakeridge Health around the holidays in honour of her mother and the amazing care she received at our hospital.
This wasn't the first time that she had donated to Lakeridge Health either. While her mother was still in treatment, Janie gave a personal gift to the hospital and included Lakeridge Health Foundation in her mother's printed obituary as a Charity of Choice. In doing so, Janie wanted to ensure others receiving treatment in the community could experience the same quality care that her mother did.
"The compassionate care my mom received was second to none. I think that people are understandably upset and sometimes even angry when they lose a loved one. By providing recognition for the good work done by their health team, we can make sure there are systems in place locally to provide the best possible care for our families."
To this day, Janie feels that the team at Lakeridge Health played an integral role in making her mother's journey as comfortable as possible. "People who make a difference deserve to be recognized. My mother received wonderful care during her treatment and at the end of her life. I know the donations in her name will have a big impact on the hospital and will help them to continue to do their exceptional work."