Interventional Radiology
Better, Faster, and Safer Health Care is Coming
Interventional Radiology is Lakeridge Health Foundation's newest priority
What is interventional radiology?
Widely unknown to the public, interventional radiology (IR) is a set of minimally-invasive procedures guided by imaging. Using tiny catheters, interventional radiologists guide instruments into the body to do complex and intricate procedures such as biopsies, shrink tumours, stop bleeding, remove infection and even spinal repair. The interventional radiology unit is one of Lakeridge Health's regional programs and the largest of its kind in Durham Region.
Your gift to our interventional radiology campaign will support nearly every area of the hospital. From women's health to cancer and critical care, our IR team is caring for patients of all ages and health issues.
Why is it better, faster, and safer?
IR techniques replace many traditional 'under the knife' surgeries; procedures are less risky and are done through pinholes in the skin.
Procedures are typically outpatient allowing people to leave that same day and recover in the comforts of their own home; many treatments are faster and sometimes complete in a matter of minutes
Shorter hospital stays and faster procedures are better for the health care system too!
Tell me a story.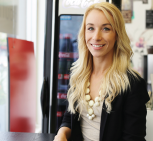 For year's Carmen Brosseau battled terrible pain in her abdomin. After countless doctors visits, visitis to the Emergency Room and the prognosis of a hysterectomy at 21, Carmen had lost hope of finding help. That was until Lakeridge Health's interventional radiology team found a better solution for Carmen's pain. One that would change her life. Read Carmen's full story here.
Support our IR campaign today. Click here to make your donation.
See Carmen's commerical running this fall on Channel 12: