Double Your Impact
Make a Gift and Double Your Impact!
Thanks to a special partnership with Durham Region Police Association donors can double their gift and double their impact on health care in our community.
For years Carmen Brosseau lived with severe abdominal pain until doctors in our Interventional Radiology department used an innovative procedure to turn her life around.

Carmen had a fibroid, a tumour on her uterus, that caused her to experience devestating pain. Faced with a future of pain or a hysterectomy at 22, Carmen was hoping for a miracle.
Thanks to a procedure called Uterine Fibroid Embolization, doctors in Lakeridge Health's Interventional Radiology department were able to treat Carmen's fibroid and eliminate her pain - in one day.
Interventional Radiology is a minimally invasive set of procedures guided by imaging. The procedures replace many traditional 'under the knife' surgeries and patients are able to return home the same day. By using real-time X-ray and CT images, catheters can be guided into the body to do complex and sometimes incredible things such as eliminate tumors, perform biopsies and make spinal repairs.
But Lakeridge Health's Interventional Radiology suite is cramped, the equipment is 14 years old and it needs to be replaced.
Lakeridge Health Foundation needs your help today to support this major renovation. The new specialized space will allow for double the number of patients seen by the Interventional Radiology team. The suite will also have: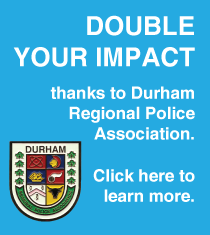 Four new rooms, including three procedure rooms and ultrasound room
Newer CT technology with instant images
Large touch screen monitors to display multiple scans
Two state-of-the-art C-arms used to safely guide procedures
Your donation today will help to offer non-invasive treatments to those with cancer, stroke, kidney disease,gynecological and gastrointestinal problems and many more conditions.
Not only that, the new suite will enable the hospital to cut wait times dramatically and make more procedures available. Most patients will not have to spend the night at the Hospital, making more beds available and lessening burdens on our health care system.
The new Interventional Radiology suite will DOUBLE the number of patients the team can see and treat. And, thanks to a generous, time-limited contribution from the Durham Regional Police Association, your gift will also be DOUBLED up to $10,000 if you make a donation before October 1, 2015.