Cabs for Cancer Care
City-Wide Taxi drives support for cancer care with new pink cab
Local residents will now see a flash of bright pink on the roads of Durham Region because a new 'cab with a cause' has hit the streets.
City-Wide Taxi, a Durham Region cab company, has created Cabs for Cancer Care - a new initiative that will direct fares from their newest pink cab to cancer care priorities here at Lakeridge Health. The taxi cab will join four other City-Wide vehicles already branded with Lakeridge Health Foundation's tag line 'Live here? Give here.'
The cab isn't the first fundraising project for City-Wide Taxi. The local business has run a golf tournament for the past four years and visits the hospital throughout the year with toys and gifts for the hospital's paediatric unit. The pink cab is the brainchild of John Karkoulas, owner of City-Wide Cabs.
When John was young, he lost a friend to cancer and since that day he's made a personal vow to do what he can to end the disease. "At City-Wide, our community is very important to us. Our customers rely on this hospital and so do so many of our employees," says Karkoulas. "This pink cab was an idea I had several years ago but it wasn't until we saw how successful our other cabs with Lakeridge Health Foundation were that we knew Durham Region was ready for something like this. We are thrilled with the outcome and can't wait to share in the excitement with hospital staff, patients and the rest of the community."
City-Wide Taxi will donate a large portion of the taxi's fares to cancer services at Lakeridge Health on an annual basis. New and unique ways of providing support are changing and Yves Gadler, CEO of Lakeridge Health Foundation welcomes all new ideas that come through the Foundation. "City-Wide is a long-time supporter of Lakeridge Health and has been giving in a number of ways for years. The Cabs for Cancer Care project is a great example of a local business finding new ways of building philanthropy into their everyday activities," says Gadler. "We feel honoured to have been chosen for this project and can't wait to see the reaction of the community and hospital staff."
The pink cab features our very own systemic therapy nurse, Laurie, and Marlene, a current patient, with the Durham Regional Cancer Centre.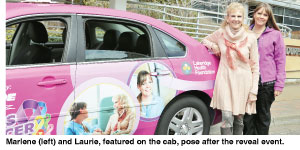 "It's always been our mission to lessen the drive for patients and families by providing a growing number of high quality cancer care services closer to home," says Dr. Barry Guppy, Interim VP, Cancer Services at Lakeridge Health. "And we've been doing just that thanks to the hundreds of oncologists, staff and volunteers here at Lakeridge Health. Thanks to City-Wide and this incredible cab, we can raise a lot more awareness about our services and give our patients a vibrant reminder of what they mean to us."
Patrons of the pink Cabs for Cancer Care taxi will also be directed to visit www.cabsforcancercare.com if they would like to make a personal donation in support of cancer services in Durham Region.