2017 Nonprofit Employer of Choice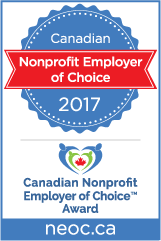 Lakeridge Health Foundation is thrilled to share that we are a recipient of Canada's 2017 Nonprofit Employer of Choice Awards!
The Nonprofit Employer of Choice™ (NEOC) Awards recognizes organizations that have committed themselves to better business management practices ensuring successful mission achievement. Canada's nonprofit sector has recognized the vital importance of incorporating private sector business practices in areas such as marketing, financial accountability and people management while still honoring the sector's best practices in service and mission delivery.
The NEOC Awards is a national program that will help participating organizations create positive brand recognition and gain a competitive advantage to attract, engage and retain top talent.
Candidates for the NEOC award are those nonprofits whose people leadership and vision has translated into exemplary talent management practices.
Click here to learn more!